« Désirs éclatés et autres nécessités politiques »
Samedi 1er avril 2006 de 23h à 1h
au Parc Floral de Vincennes

Ce programme en forme de manifeste, s'en va fourrager autour de multiples formes de désirs, désirs sublimés, assumés, éclatés, mouvants, transgenres. Le documentaire Des Panthères roses à Cracovie, qui clôt la série des vidéos présentées, ouvre une interrogation sur quelle politique inventer et pour quel désir de politique.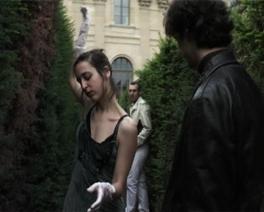 L'amour, de leur côté de Kantuta Quiros 2005, 14 min
Out of nowhere (the remix) de Violette Villard et Marianne Magne 2004, 8 min 45s
Navigation poétique à travers un laboratoire nomade de corps mutants.
L'amour, de leur côté de Kantuta Quiros 2005, 14 min
Une danseuse fureteuse vient errer dans les jardins labyrinthiques du Carrousel du Louvre, mythique lieu de drague gay. Elle vient se mêler au peuple des hommes.
Embodied Corpses de Gerald Marix 2004, 5 min.
Un film diaporama. Les glissements progressifs, d'une chair à l'autre. En présence de Gerald Marix
Le corps les murs de Gerald Marix 6 min.
En présence de Gerald Marix
Le Cabinet de nexologie de Nexus, 2005, 5 min
Pièce impressive pour ombres et échos en Ils
En présence de Nexus
Love on the beach girlswholikeporno, 2min
Fantasia 21 girlswholikeporno, 3 min
La Bestia girlswholikeporno, 2 min 
Trucking'', Clip by AlexetJeremy.com Team Plastique, 3 min
Hamburger, Live Footage, Team Plastique 4 min
Punk Rock Song, Grant Worth pour Avenue D, 3 min
Des Panthères Roses à Cracovie de Sophie Sensier et Barbara Schuch 2005, 30 min
Quelques temps après la mort du Pape et la montée en puissance d'un climat de violence homophobe en Pologne, on retrouve le collectif activiste des Panthères Roses de Paris (invitées à la Marche des Fiertés de Cracovie), toutes en déroute. Chronique douce et burlesque d'un voyage, le film de Sophie Sensier et Barbara Schuch croque le doute au cœur de toute pratique militante. (K.Q.)

Informations pratiques: La projection est entrée libre et aura lieu dans la salle de spectacle du Forum du Parc Floral, dans le cadre du Forum  des Associations étudiantes. L'entrée dans le parc floral se fera à partir de l'entrée des « pyramides » (voir les plans plus bas), l'accès principal étant fermé à partir de 20h.
Métro : Ligne 1, arrêt Château de Vincennes Rer : Ligne A, arrêt Vincennes Bus : Ligne 112, arrêt Stade Léo Lagrange Depuis le périphérique: 5 minutes depuis Porte Dorée, Porte de Vincennes ou Porte de Charenton Depuis l'Autoroute: 5 minutes depuis l'autoroute A4, sortie Joinville Cliquez ici pour visualiser un plan du quartier. Ainsi qu'un plan du parc floral et un plan du forum.
Programmation Aliocha Imhoff et Kantuta Quiros
Remerciements So what productions (Antoine Châtelet, Violette Villard et Marianne Magne) Gérald Marix Nexus Girls who like porno (Maria) Team Plastique (Kirsty) Avenue D (Daphne) Sophie Sensier et Barbara Schuch Hervé Joseph Lebrun (QueerFactory) Julien Gittinger François-Régis Levol L'émission Extérieur Nuit de Radio Campus FSDIE Paris 8 Animafac
---
Cette soirée est organisée dans le cadre du Forum des associations étudiantes. Pour the plus d'informations, et pour connaître les autres programmes de la soirée, rendez vous sur le site d'Animafac