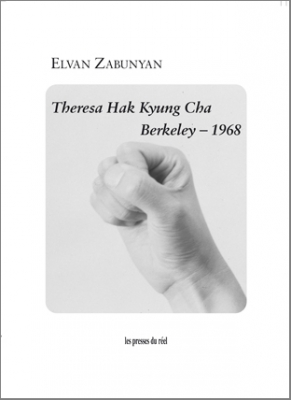 Theresa Hak Kyung Cha – Berkeley – 1968
Rencontre-librairie avec Elvan Zabunyan, Abigail Solomon-Godeau, Aliocha Imhoff et Kantuta Quiros
le 13 juin 2013 19h00
À l'occasion de la sortie de son livre
Theresa Hak Kyung Cha – Berkeley – 1968
, le Jeu de Paume et les Presses du réel ont le plaisir de vous inviter à une rencontre avec Elvan Zabunyan, en présence de Abigail Solomon-Godeau, Aliocha Imhoff et Kantuta Quiros.
Ce livre est la première publication dédiée à l'oeuvre singulière de l'artiste coréenne-américaine Theresa Hak Kyung Cha (1951-1982), à la croisée de la performance, de l'art conceptuel, de la vidéo et de la poésie, dont l'un des motifs principaux concerne sa représentation de l'Histoire, marquée par l'expérience de l'exil et de la migration, de la dislocation temporelle, culturelle, géographique et sociale.
Dans le courant de sa brève vie, Theresa Hak Kyung Cha a produit un travail artistique, littéraire et critique qui en fait une figure exemplaire, même si encore trop méconnue, de l'art contemporain américain. Est ici retracé ce parcours singulier qui se forge à la lumière d'une période exceptionnelle à la fois de l'histoire et de l'histoire de l'art. Theresa Hak Kyung Cha est à Berkeley en 1968, à Paris en 1976, à New York en 1980 et s'engage dans une pratique de l'art et de la pensée où sont brassés les concepts les plus novateurs des théories visuelles ou filmiques, de la philosophie, de la linguistique et de la littérature comparée.
Historienne de l'art contemporain, Elvan Zabunyan est maître de conférences habilitée à l'université Rennes 2 et critique d'art. Ses recherches portent sur l'art nord-américain depuis les années 1960 et notamment le tournant 1970 autour des questions raciales et féministes. Elle travaille depuis le début des années 1990 sur les problématiques issues des cultural studies, des théories postcoloniales et des études de genre en cherchant à construire, grâce à ces pensées critiques, une méthodologie de l'histoire de l'art contemporain articulée autour d'une histoire culturelle, sociale et politique. Elle a publié Black is a color, une histoire de l'art africain américain (Dis Voir, 2004 et 2005 pour la version anglaise), co-dirigé plusieurs livres et a écrit de nombreux articles dans des ouvrages collectifs, des catalogues d'exposition et des périodiques.
Abigail Solomon-Godeau est professeur d'Histoire de l'Art à la University of California, Santa Barbara. Elle travaille sur la théorie et la critique féministe, la photographie et la culture visuelle en France au XIXe siècle. Elle a publié : Photography at the Dock : Essays on Photographic History, Institutions, and Practices (University of Minnesota Press, 1991) ; Male Trouble. A Crisis in Representation (Thames & Hudson, 1997) ; The Face of Difference. Gender, Race and the Politics of Self-Representation (Duke University Press).
Aliocha Imhoff et Kantuta Quiros, fondateurs et directeurs artistiques de la structure curatoriale Le peuple qui manque.
> À l'espace éducatif du Jeu de Paume, le jeudi 13 juin à 19 heures. Entrée libre dans la limite des places disponibles.
http://www.jeudepaume.org/index.php?page=article&idArt=1954&lieu=1