Les Impatients
A Chronopolitical Serie
A film by Aliocha Imhoff & Kantuta Quirós (in progress)
Une série chronopolitique, sur les imaginaires du temps, autant que sur cette impatience que nous portons en nous de retrouver le temps de l'événement, la possibilité de l'avenir, dans ce moment que nous traversons, en Europe particulièrement, de la plus grande obstruction du politique, ce sentiment de la plus grande impuissance.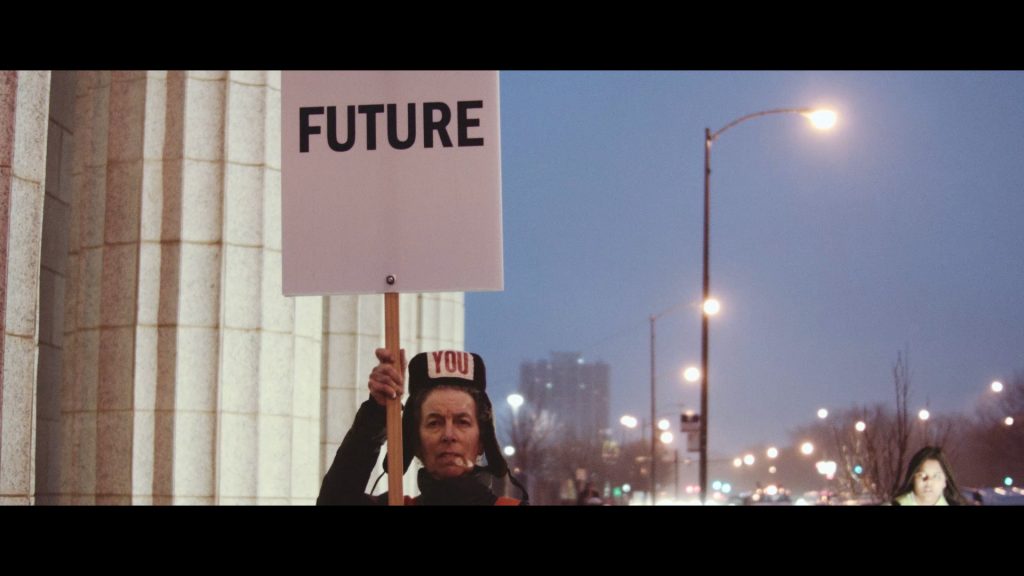 "Our age has been described as the age of winter – an ice age for possibilities. Faced with this 'crisis of the future' that the early 21st century is undergoing. The Impatient Ones are those who work towards reconstructing the future (or futures). They are the same people who feel a sense of impatience towards a seemingly stagnant and immobile History. Based on this crisis, this series arises from the urgency to rediscover possibilities for the future. Thus, we are left in search of traces and hints of possible futures, which we collect and gather together. We then seek to sew together these 'bursts' of possible futures, which many modern artists and thinkers express. We address this investigation like rhapsodes – the rhapsode who goes from town to town reciting poems written by others, the seeker, the liaison agent who, in the primary sense of the term, aims to sew and link together different spaces, continuously, as far as the limits of the inhabited world.
Each episode thus begins from a chronotope, a specific space-time, from which a temporal reflection is constructed. The people we film in Chicago, Detroit, Dakar, Paris, Leipzig and soon in Haiti and Lagos, embody crystals of time, far from the fiction of the homogeneous time of globalisation, far from the fantasy of global simultaneity.
We film in Chicago, in Detroit, where the crepuscular ruins of the sub-prime crisis and the wounds inflicted on the black community are contradicted by Afro-futuristic imagination and the Black Lives Matter movement. We film in Dakar, where seeds of a different future for Africa are beginning to sprout. We film in Leipzig, where the movement that would lead to the fall of the Berlin Wall historically started. We film in Paris, during Nuit Debout, where agendas were undone and where, like an epiphany, the shared joy of rediscovering political possibilities re-emerged." 
— KQ & AI
Season 1
A Museum of Times – ​Chicago
​Stopping Time – ​Paris
A Government of Times ​- Leipzig
A Debt of Times ​- Dakar
Image, sound, editing : Aliocha Imhoff & Kantuta Quirós
Featuring Krista Franklin, Amir George, Devin King & Caroline Picard, Ellen Rothenberg, Camille de Toledo, Ibaaku, Ican Ramageli (Laboratoire Agit'Art), Felwine Sarr,  Maurizio Lazzarato, François Hartog, Diann Bauer, François Cusset, Benjamin Noys, David Graeber, ​….
Texts by Aliocha Imhoff & Kantuta Quirós, Krista Franklin, Camille de Toledo, Maurizio Lazzarato, Paul B. Preciado, etc.
With the support of the Patronage Commission of FNAGP.
The first episode in Chicago/Detroit was shot during the Méthode Room residency programme led by Guillaume Désanges at the Rebuild Foundation (established by artist Theaster Gates) with the support of the French Institute, the Cultural Services of the French Embassy in the USA, the University of Chicago and the Théâtre de la Ville
and has been presented in :
– Brouhaha, les mondes du contemporain (Khiasma, 19 février 2016, cur. Lionel Ruffel)
– States of Opacity, Biennale de Dakar (8 mai 2016, curated by Mara Ambrožič and Elvira Dyangani Ose)
– Bergen Kunsthall Landmark, Norvège, 22 septembre 2016 (à l'invitation de Alt Gar Bra)
– Excusez-moi de vous avoir dérangés. Narrateurs intempestifs du passé-présent-futur, Khiasma, exposition du 20 oct. au 17 déc. 2016
 (Commissariat : Olivier Marboeuf)
– « Curating as rhapsody », Conférence dans le cadre d'On Mediation 4, séminaire on curatorship and research –  AGI (Art Globalization Interculturality), dirigé par par Anna Maria Guasch et Martí Peran, Université de Barcelone, 9 novembre 2016
– Séminaire « Le temps », Anicea, 24 novembre 2016 à la Fondation Gulbenkian
– « Rhapsodier les mondes » in Ecrire et penser avec l'histoire à l'échelle du monde?, séminaire dirigé par Catherine Coquio, Ines Cazalas, Université Paris 7-Denis Diderot, 21 février 2017
– Séminaire "Connaissance sensible", EHESS, à l'invitation de Frédérique Aït-Touati, Emanuele Coccia, Alice Leroy, 18 avril 2017
– Institut Français d'Athènes, Nuit de la Philosophie, 16 mai 2017, à l'invitation de Camille Louis.
– FRAC de la Réunion, Cité des arts, Ecole d'Art de Saint-Denis de l'Ile de la Réunion, mai 2017, à l'invitation de Myriam Omar Awadi et Yohann Queland de Saint-Pern
– Narratives from a Near Future, Haute Ecole d'Art et de Design – HEAD de Genève, international symposium December 14 2017 and exhibition  24.11–16.12.2017.
– Standford University / EHESS, journée d'études Contemporary Visions of the Future, 13 mars 2018, à l'invitation de Marielle Macé 
– Centre d'Art Contemporain de Genève, 28 août 2018, dans le cadre de la série à l'invitation de Bénédicte Le Pimpec et d'Isaline Vuille
– Konsthall C, Stockholm, dans l'exposition A Debt of Times, 24 août – 28 octobre 2018
The episode A Government of Times was shot with the support of Halle 14  Leipzig Contemporary Art Center.
Other episodes (season 2) are in progress.
More soon