HORS CASES #5
LE PEUPLE QUI MANQUE
Saturday January 17, 2009. 7pm
Polygone Etoilé 1, rue Massabo 13002 Marseille
360° et même plus invites Le peuple qui manque.
In the presence of Kantuta Quiros, Aliocha Imhoff
and Maria Galindo (Mujeres Creando).
7pm Mujeres Creando. Feminist collective / Performances
Bolivia / 60 min / video / VOSTF
with the exceptional presence of Maria Galindo,
member founder of the group.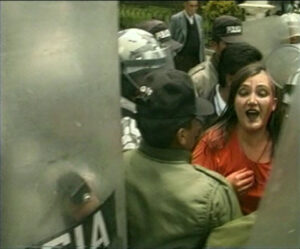 The famous Bolivian feminist group, Mujeres creando, collective multitude of women in rebellion, has carried out for fifteen years an enthralling development between urban, critical intervention radical, irrepressible Utopia, celebration ostentation and to tighten body, pleasure, daily newspaper, powers of the imaginary one. Their "actions" or performances of street draw a single ethical posture in its kind of agitatrices, "neither intellectual nor artists", fights about it against patriarchal oppressions, the colonial diagrams, the neoliberal policies. (Le peuple qui manque)
PAUSES
8 pm  D
ISCUSSES/MEETING/MEAL
9:45 pm Flaming Creatures by Jack Smith.
USA / 1963 / 45 min / 16mm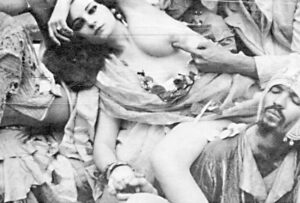 Jack Smith is one of the outstanding figures of the cinema American underground. Its notoriety and its importance exceed the circle of the experimental cinema, insofar as it influenced in a dominating way by its performances, the American theatre of end of the year 60. Flaming Creatures started as of its first projections the anger of the censure in the United States and it was a long time proh ibited (Jonas Mekas and Ken Jacobs were stopped in 1964 to have wanted to present it publicly).
Flaming Creatures is turned on 16 out-of-date mm. A rare and famous film for its aspect innovative and shocking. A sexual film and sexually deviating where mix orientalism, vampirism, earthquake and transvestites in a quasi single sequence of dionysiaque orgy. Censured for its pornographic character the film however draws more on the side of the Greek tragedy. Ginsberg greeted of it the artistic free expression and its propensity with dissidence. (Cinémathèque de Toulouse).
Hors Cases. 360° et même plus / Beyond our work of production/realization of documentary films and experimental, we worked out a program of projections/meetings around the work of other collective structures which combine creation, production and programming of films (very) independent. This project of seven programmings entitled EXCEPT BOXES, distributed over the year 2008-2009, proposes a cycle of documentary films and experimental carried out in margin of cinema industry and television. They is indeed while gathering within structures, by sharing ideas, material and knowledge to make, that scenario writers, in the search of autonomy and of independence, singular processes of manufacture start, in a will of control of material and its "production line". EXCEPT BOXES will thus create a bond between experimental and documentary cinema by clarifying their common points, that it is on the plan of their practices, based on an often minimal economy, or their political and poetic approaches of the world.
Screening at
LE POLYGONE ÉTOILÉ (Film flamme)
1 rue Massabo 13002 Marseille
Phone : 04 91 91 58 23 / Metro- Tram : Joliette
Free Entry
       
Informations
360° et même plus
contact [at] 360etmemeplus.org
04 91 91 50 08
https://www.360etmemeplus.org