Let Each One Go Where He May
de Ben Russell (135 min, v.o., 2009)
Dans le cadre de Hantologie des colonies
Hantologie des colonies est une proposition de Normal (Bruxelles) produite et coordonnée par Khiasma
Mercredi 9 novembre 2011, 20h
Cinéma le Méliès, Montreuil

Réalisé au Suriname, le film déconstruit les codes du cinéma ethnographique traditionnel en optant pour le mystère et en faisant la part belle aux éléments naturels plutôt qu'à l'analyse et au commentaire. En suivant le voyage de deux frères non identifiés, il use d'une structure narrative linéaire mais peu conventionnelle pour susciter la remémoration de faits historiques. Quittant la banlieue de Paramaribo, les frères traversent lors de leur périple « le pays », ses rivières, un village de « marrons » (esclaves en fuite) et rejouent au présent le trajet de la fuite de leurs ancêtres tentant d'échapper aux colons hollandais trois cent ans auparavant.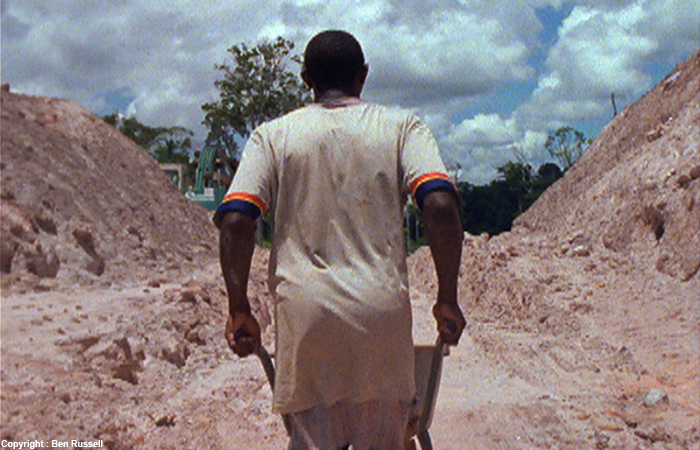 Né à Chicago (Etats-Unis) en 1976. Vit et travaille à Chicago.
Ben Russell est un cinéaste expérimental, photographe itinérant et commissaire d'expositions. Il reçoit un Guggenheim Award en 2008, bien qu'il est commencé à programmer des films et des performances bien plus tôt dans le circuit indépendant. Il a réalisé une série de films qu'il présente volontiers comme des ethnographies expérimentales. Ils ont fait l'objet d'expositions et de projections dans des lieux aussi divers que le MOMA, le festival du film de Rotterdam, un monastère belge du dix-septième siècle, un poste de police ou des squats punks. Il dirige un artist-run-space à son domicile qui porte son nom propre et dont le titre de chaque exposition offre une modulation sur ce même nom.
Expositions et projections
2011
Uh Oh It's Magic, , ThreeWalls Contemporary Art Space, Chicago (solo)
Trypps, Tribes and Cunning Gods, CCCB, Barcelone (solo)
2010
UBS12x12: Ben Russell, Museum of Contemporary Art, Chicago (solo)
Authorship. Authority. Authenticity, Berlin Documentary Forum, Berlin
2009
Recent Anthropologies, Rotterdam International Film Festival, Rotterdam (solo)
The Night Clarifies the Day, Cinémathèque Française, Paris
Programmation: Vincent Meessen / Normal.be
Rencontre animée par : Eric Wittersheim, Aliocha Imhoff, Kantuta Quiros
En partenariat avec : la Maison Populaire et Le peuple qui manque (Aliocha Imhoff et Kantuta Quirós), dans le cadre de Écrans Sociaux de la Maison Populaire.
INFOS / ACCÈS
CINÉMA LE MELIÈS
CC de la Croix de Chavaux, 93100 Montreuil /www.montreuil.fr