The New Mestiza
Genres, borders and performance artists
in Central America (Mexico-Guatemala)
Screening, Les Abattoirs, Musée d'Art Moderne et Contemporain – FRAC Toulouse
Maria Adela Diaz / Regina José Galindo / Sandra Monterroso / Lorena Wolffer / Ursula Biemann
A program presented and designed by
Aliocha Imhoff and Kantuta Quirós, exhibition curators
March 27, 2014
Thursdays at Les Abattoirs – 7pm – Free admission
Auditorium des Abattoirs
In her book Borderlands / La Frontera: The New Mestiza (1987), Chicana poet Gloria Anzaldúa envisioned the borderlands of the Mexican-American frontier as places of passage between genders and cultures, a space of hybridization and in-betweenness. Secreted by the Borderlands and the blurred interstices between contradictory linguistic, geocultural and sexopolitical formations, a "new mestiza" emerges, whom Anzaldúa describes as a transnational citizen, aware of her inextricable identities.
If Central America is today a link in the globalized economy (with the phenomena of maquiladoras as "free zones" of post-Fordist manufacturing, cross-border migration with the United States and feminicide – currently rampant in Central America – playing a decisive role), it is also the matrix for new generations of artists whose performance work conceals a rare intensity. These proposals are rooted in a long tradition of art-action and video-performance with an intrinsically political dimension, in which the body is seen as a site of confrontation and negotiation.
In Guatemala, driven by a generation of women artists, performance art experienced a revival in the mid-1990s, with the return to democracy allowing a reappropriation of public spaces. These artists evoke the memory of genocide, the after-effects of civil war, migration and the complexity of new, fragmented identities, woven from cultural relationships and negotiations. Their poetics largely mobilize an aesthetic of the reversal of stigma. Regina José Galindo, poet, video artist and performer, born in 1974, is part of this tradition, and has been one of the most emblematic Guatemalan artists of her generation since the mid-1990s, winning the Golden Lion at the Venice Biennale in 2005. In her controversial performances, her body is the vehicle through which she denounces political conflicts and makes violence against women explicit. "I am a commonplace (…) I am the most common woman among commonplaces", writes Regina José Galindo.
Sandra Monterroso interweaves motifs of cultural identity and gender. Her pieces are about sabotaging social prescriptions, and are the site of a conflict between emancipation and tradition. In Mexico, Mexican artist and cultural activist Lorena Wolffer focuses on the murdered women of Ciudad Juarez, while artist, theorist and curator Ursula Biemann's film essay Performing the Border examines how the gendered dimension of migration, violence against transnational bodies and technology are linked in the same border space.
Aliocha Imhoff and Kantuta Quirós
Maria Adela Diaz  – Borderline (2005, Etats-Unis, Mexique, 2')
Regina José Galindo –  ¿Quien puede borrar las huellas ? (2003, Guatemala, 1'50'')
Regina José Galindo –  Mientras, ellos siguen libres (2007, Guatemala, 2'25'')
Regina José Galindo – Perra (2005, Guatemala, 5'20'')
Regina José Galindo – Ablucion (2007, Guatemala, 4')
Regina José Galindo –  Limpieza social (2006, Guatemala, 2')
Regina José Galindo  -Paisaje (2012, Guatemala)
Sandra Monterroso – Deformación # 33 (2007, Guatemala, 5')
Sandra Monterroso – Tus tortillas mi amor. Lix Cua Rahro. (2004, Guatemala, 12')
Lorena Wolffer – Mientras dormiamos (el Caso Juarez) (2002, Mexique, 11')
Ursula Biemann – Performing the border (1999, Suisse-Mexique, 45')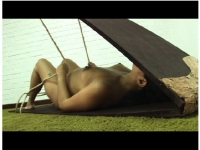 Sandra Monterroso
"Born in 1974, Sandra Monterroso's video-operformances are not just recordings, but also poetic objects which, through a play of correspondence between indigenous (K'ekchi', Mayan language), colonial (Spanish) and global (English) languages, present post-colonial and intercultural processes in Guatemala, and their frictions and discrepancies with feminist consciousness. In one of them, Tus tortillas mi amor. Lix Cua Rahro. (2004), Sandra Monterroso engages in the repetitive, monotonous preparation of the traditional Guatemalan dish, tortillas. But during this long ritual, she regurgitates the corn after chewing it for a long time, before drawing, in the secret of the dough, a heart soaked in her blood. Intertitles embedded in the image and her soliloquy respond to each other, evoking domestic alienation, fear, the couple and self-sacrifice. The dynamics present in Sandra Monterroso's work, between feelings of guilt and emancipation, withdrawal and autonomy, place the present and tradition in tension (Culpa, 2006). In an urban, hybrid society, where native, mestizo and global cultures respond to and mix with each other, they are the postmodern stage for a tearing between silence and subjective voice, disobedience and loyalty to identity, culture and language (Deformacíon #33). His videos are thus the trace of a self-awareness, a work of sabotage of cultural repetition, allowing passage between different languages, worlds and cosmovisions." Aliocha Imhoff and Kantuta Quirós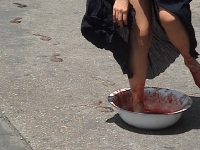 Who can erase the traces? Regina José Galindo
"Poet and performer Regina José Galindo has been one of the most emblematic Guatemalan artists of her generation since the mid-1990s. In her controversial performances, in which her own body is the vehicle through which she denounces political and social conflict, violence and economic injustice, she pays tribute to the dead and disappeared of the civil war of the 1980s-90s, and the genocidal dictatorship of General Rios Montt. Her work is also a clarification of the violence done to women's bodies in today's world, and more specifically in Latin America, with the feminicide taking place in Central America, and domestic violence. "I am a commonplace (…) I am the most common woman among commonplaces", writes Regina José Galindo. Carrying to the limit the affirmation that art is life, Regina José Galindo transcends the artistic dimension of her performances, which contribute poetically to alleviating, as she puts it, the collective pain of Guatemalans." A.I. & K.Q.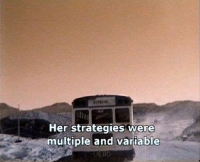 Performing the border – Ursula Biemann
Artist, theorist and curator, Ursula Biemann is the author of numerous works on the themes of borders, mobility and the gendered dimension of migration. Her investigations focus on issues related to emigration in the context of globalization, exclusions linked to geographical, economic and political borders, as well as technology and gender. She is a researcher at the Institute for Art and Design Theory at the HGK in Zurich. In 2009, she was awarded the Meret Oppenheim Prize.
"Performing the border (1999, 45′) investigates the living and working conditions of women in the vast backyard of the American economy south of the U.S.-Mexico border.
Taking as her starting point an advertisement for the Elamex company, which sells women's labor for one dollar an hour, the video artist shows that the social and technical construction of the border extends to the sexuality of those whose "performance" is touted in the image. If the story of a female "coyote" – or border-crosser – allows us to envisage possible exits from this system of control, the story of the serial murders around the Mexican city of Juarez raises disturbing questions about the serialization of human life for the manufacture of hi-tech goods (computers, etc.)." (Ursula Biemann, Multitudes magazine 15, Winter 2004)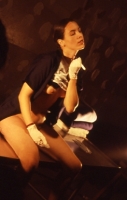 Lorena Wolffer
"In Tandis que nous dormions (l'affaire Juárez), Lorena Wolffer's body, transformed into a symbolic map, is used to document and tell the story of fifty of the cases recorded in Ciudad Juarez (Mexico), where since the early 1990s, over 300 women have been murdered and as many have gone missing. The artist's body becomes a vehicle for representing the violence suffered by these women. A violence that today seems to have become institutionalized. Lorena Wolffer is a Mexican artist, performer and cultural activist. She has presented her work in Europe, Canada and the United States. Lorena Wolffer is also a promoter of experimental art, and has organized over twenty artistic events, including the exhibitions Familias naturales (Casa del Tiempo/MUMA, 2011), Alteraciones documentales (MUMA, 2008), Tú no existes (Universidad Nacional Autónoma de México, 2005), ¿Krimen urbano? (Antiguo Edificio de Bomberos, 2001), Señales de resistencia (Museo de la Ciudad de México, 2000), Arte chido, el arte de la violencia (Antiguo Colegio de San Ildefonso, 1997), Terreno Peligroso/Danger Zone (UCLA, Los Ángeles, California y Ex-Teresa Arte Alternativo, 1995). She was co-founder and director of the Mexican cultural center Ex-Teresa Arte Alternativo, co-creator of the cultural TV program La caja negra, on Once TV and academic coordinator of Arte, cultura y justicia: representaciones y performatividades alternas of the University Program of Gender Studies/PUEG of the National Autonomous University of México. She teaches performance art at Mexico's National Center for the Arts, among others.
Maria Adela Diaz
Maria Adela Diaz is a graphic designer and artist born in Guatemala in 1973. She lives and works in Los Angeles. Through various media, such as installations and video performances, Maria Adela Diaz uses her body to convey her objections to political deceptions, patriarchal societies and discriminatory philosophies, in work that includes the transformation of the viewer, in an everyday context. She has exhibited in Europe, New York, Mexico, Guatemala, Costa Rica and elsewhere.
Her work is included in the anthology "Imagining Ourselves: Global Voices from a New Generation of Women", published in 2006 in San Francisco by the International Museum of Women. In Borderline (2005), an action that can be read as a cathartic ritual for the wounds of her own exile, Maria Adela Diaz locks herself in a container thrown into the sea, evoking the politics of migration in the United States.
In partnership with and as part of the 26th Cinélatino, Rencontres des Cinémas latino-américains de Toulouse.
Assistant : Morgane Le Geldron
Acknowledgements: the artists, les Abattoirs – FRAC Midi-Pyrénées, Cinélatino, Loïc Diaz-Ronda, Eva Morsch Kihn, Alba Paz, Muriel Justis, Paula Orastica, etc.
https://www.lesabattoirs.org/evenement/borderlands-la-frontera-the-new-mestiza/