Atlas critique
Exhibition
Francis Alÿs, Erick Beltrán, Berger & Berger, Border Art Workshop, Mark Boulos, Lewis Carroll / Henry Holiday, Chto delat?, Fernand Deligny, Michael Druks, Claire Fontaine, Internacional Errorista, Pedro Lasch, Vincent Meessen, Nástio Mosquito, Estefanía Peñafiel Loaiza, Lia Perjovschi, Radek Community + Dmitri Gutov, Philippe Rekacewicz, R.E.P. Group, Allan Sekula & Noël Burch, Société Réaliste, Stalker, Endre Tót, David Wojnarowicz /James Wentzy / AIDS Community Television. Curators: Aliocha Imhoff et Kantuta Quirós Opening: Friday, 16th March, 2012 at 6:30 pm 17 March–27 May 2012 Parc Saint Léger, Centre d'art contemporain Avenue Conti 58320 Pougues-les-Eaux / France www.parcsaintleger.fr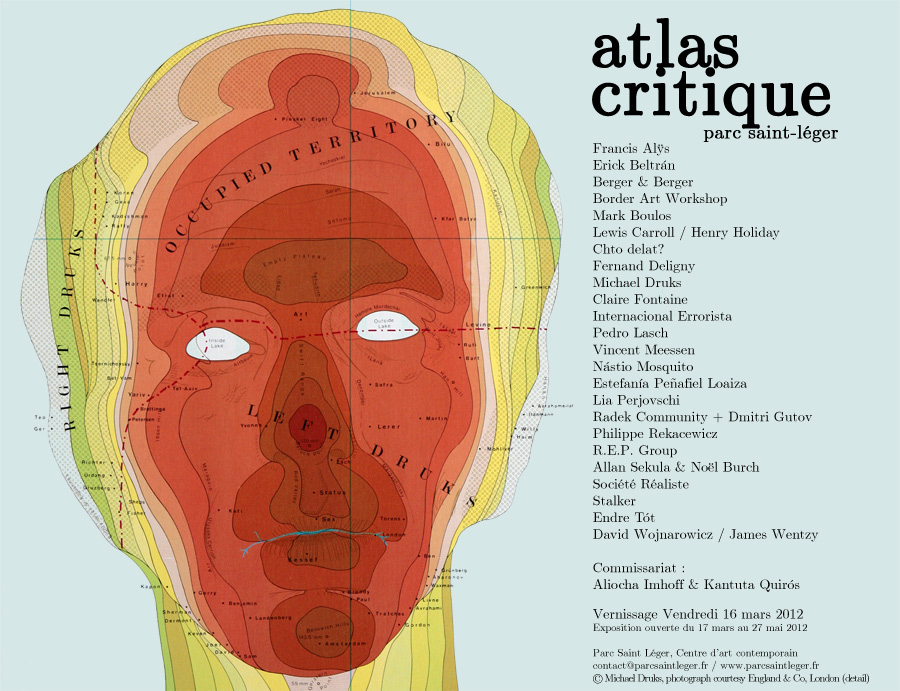 From 16 March to 27 May 2012, the Parc Saint Léger gives carte blanche to the curatorial platform le peuple qui manque.
At a time when contemporary critical thought is evolving and assuming new forms, the necessity to provide a range of maps for this inchoate theoretical continent and to establish new cognitive cartographies has emerged. For many contemporary theorists, geographers and philosophers (Fredric Jameson, Edward Soja or David Harvey) this is also an age in which space dominates time, and numerous geographical concepts are now proliferating in the art field. Although we are aware of the extent to which cartography as a discipline has been profoundly imbricated in the performative production of the narratives of modernity, in objective and positivist rationality, but also the history of colonialism and nationalistic constructions, for artists today, it has become a privileged site for the invention of counter-practices that open up new perspectives and participate in a deconstruction of hegemonies and post-colonial epistemologies. The Atlas Critique exhibition participates in a spatial shift within art, inspired by the writings of geographers, philosophers, post-colonial thinkers or theorists of decoloniality. The exhibition posits that spatial issues have now become a privileged site for questioning contemporary politics, and uses radical geography, drifts and diversions, diagrammatic thought, conceptual and imaginative cartographies as alternative tools for the production of knowledges, narratives and realities. le peuple qui manque was created in 2005. It is a curatorial organisation that presents events, festivals, symposiums and publications at the crossroads of art, cinema and theory. Focusing on the relationship between art and politics, le peuple qui manque reformulates critical perspectives on history, capitalism, cultural geographies and the production of images and representations.
www.lepeuplequimanque.org
Activities associated with the exhibition:
A performance by Patrick Bernier and Olive Martin Conferences by Razmig Keucheyan and Giovanna Zapperi Screening of the film May They Rest in Revolt (Figures of Wars) by Sylvain George Opening of the exhibition Atlas critique Friday 16 march 2012 at 6:30 pm Exhibition open from 17 March to 27 May 2012 Wednesday to Sunday, from 2 pm to 6 pm and by appointment Free admission
Thanks : Parc Saint Léger (Sandra Patron, Ronan Le Pennec, Vincent Valéry, Franck Balland, Fanny Martin, Léa Mérit, Céline Poulin, Jean-Philippe Darini), L'Arachnéen (Sandra Alvarez de Toledo, Anaïs Masson), Fondation Antoine de Galbert (Arthur Tocqué), Aude Lavigne (France Culture), BAW/TAF (Michael Schnorr), Francis Alÿs et David Zwirner Gallery (Maggie Bamberg, Erin Caroll, Stephanie Stockbridge), Erick Beltran et Labor (Niki Nakazawa), Berger & Berger, Bertrand Westphal, Alexandra Baudelot (Rosascape), Mark Boulos, Michael Druks et England Gallery (Jane England), Dmitry Vilensky (ChtoDelat ?), Claire Fontaine (Fulvia Carnevale et James Thornhill), Federico Zukerfeld, Galerie Alain Gutharc (Laure Saucias), Pedro Lasch, Vincent Meessen et Saskia Ooms (Netwerk), Nástio Mosquito, Estefanía Peñafiel Loaiza, Lia Perjovschi et Christine Konig Gallery, Radek Community + Dmitri Gutov, Philippe Rekacewicz, R.E.P. Group, Allan Sekula & Noël Burch, Galerie Michel Rein (Angharad Williams), Société réaliste (Ferenc Grof et Jean-Baptiste Naudy), Stalker (Francesco Careri) Giovanni Careri, Endre Tót, Jim Hubbard, James Wentzy, Sylvain George, Yannick Gonzalez (galerieofmarseille), Fonds Départemental Nouveaux Collectionneurs – Conseil Général des Bouches-du-Rhône, Doc eye (Joost Verhay), Patrick Bernier et Olive Martin, Razmig Keucheyan, Giovanna Zapperi, Stephen Wright, Anne Querrien, Anna Knight.