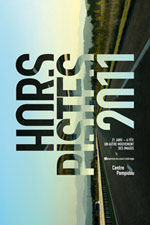 le peuple qui manque
recommande le Festival Hors Pistes
Hors Pistes
(21 janvier – 6 février 2011) présente, "sous le signe de la réjouissance critique du contemporain, une sélection internationale de films et vidéo où la fiction se superpose avec l'art contemporain, le documentaire ou la performance. La manifestation célèbre ainsi dans les salles de cinéma du Centre Pompidou les récits déconstruits, les films hybrides et les narrations détournées. "
Y seront montrés, parmi une large sélection notamment
– Sea Swallow'd de Andrew Kötting (2010, UK)
– The Exception and The Rule (2009, 35′, UK) de Brad Butler & Karen Mirza, que nous présentions au mois de décembre 2010.