Judith Cahen / David Nebreda
Wednesday June 10, 2009 – 8pm30
Cinema Le Méliès

In the presence of Judith Cahen, Alberto Sorbelli (artist) and Ruwen Ogien (philosopher)

Attention : This is an automatic translation !
ADN
by Judith Cahen (2005, 1h17)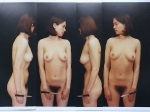 "Few bodies continues what many spirits begin"
With ADN, the director Judith Cahen realize a portrait in hollow of the Spanish photographer autoportraitist David Nebreda, who, in a work of performer – prone living of its photographs, an asceticism practises which leads it to the drying and a diagram of its flesh. A subject become cells.
Judith Cahen never puts in scene her meeting with the artist but well rather that with her photographic work, of one striking beauty, which borrows from the religious iconography, the forfeiture and a schizophrenic world. A such detective, under the features of burlesque sound alter ego Anne Buridan, which she interprets itself, she leaves to question his friends (of which Vincent Dieutre, Jeanne Labrune, Matthieu Lindon, Philippe Sollers, Alberto Sorbelli, Mallory Nataf… etc), asking them which effect produce the images of the photographer to them. Judith Cahen chooses this intermediation, like as many mirrors tended towards what makes art and humanity, in the work of Nebreda. Questioning the borders of artistic creation, the film puts in scene the impact of this meeting on the cinema of Judith Cahen and her own step of car-representation. "I was in search of the hard core of my identity, and that of my cinema, out of mirror of his, extreme and radical (…) I had the need to ask the others to be the "insane guards", those which prevent me from running, to be attracted by the madness, by the song of the sirens." Its investigation is moulted soon under an enthralling and vertiginous test on the representation, the properties of the body, the limits of the identification, oneself and others, starting from the confrontation of two steps of self-portraits radically different and close at the same time.
"Scenario writer, actress, author of "the crusade of Anne Buridan" (1995) and of "the sexual revolution have not taken place" (1998), Judith Cahen continues for a few years already a cinematographic project of autobiographical nature, which in addition questions the very fine borders between the cinema, the dance, cont
emporary art. To be on borders, to be at the border of disciplines, borders of states of perception and emotion, such is its matter. " Pascale Cassagnau, future amnesia, investigations into a third cinema, 2007
ADN is distributed by a people is missing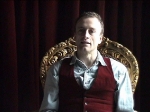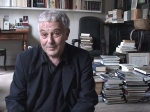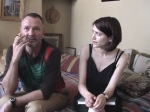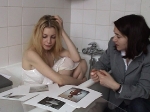 Curators and texts : Kantuta Quirós & Aliocha Imhoff / le peuple qui manque