Judith Cahen / David Nebreda
Wednesday, June 10, 2009 – 8:30 p.m.
Cinéma Le Méliès

Session with Judith Cahen, Alberto Sorbelli (artist), Ruwen Ogien (philosopher)
ADN (DNA)
by Judith Cahen (2005, 1h17)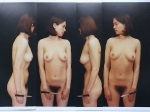 "Few bodies continue what many minds begin".
With ADN, director Judith Cahen creates a portrait of Spanish self-portraitist photographer David Nebreda, whose work as a performer – the living subject of his photos – practices an asceticism that leads him to the drying out and purification of his flesh. A subject that has become a cell.
Judith Cahen never stages her encounter with the artist, but rather with his staggeringly beautiful photographic work, which borrows from religious iconography, decay and a schizophrenic world. Like a detective, in the guise of her burlesque alter ego Anne Buridan, whom she plays herself, she sets off to interview her friends (including Vincent Dieutre, Jeanne Labrune, Matthieu Lindon, Philippe Sollers, Alberto Sorbelli, Mallory Nataf…etc.), asking them what effect the photographer's images have on them. Judith Cahen chooses this intermediation, like so many mirrors held up to what makes art and humanity, in Nebreda's work. Questioning the boundaries of artistic creation, the film stages the impact of this encounter on Judith Cahen's cinema and her own approach to self-representation. "I was in search of the hard core of my identity, and that of my cinema, mirrored by hers, extreme and radical (…) I felt the need to ask others to be the 'mad guards', those who prevented me from sinking, from being lured by madness, by the siren song." Her investigation soon turns into a fascinating and dizzying essay on representation, the properties of the body, the limits of identification, of the self and of others, based on the confrontation of two radically different yet closely related approaches to self-portraiture.
"Judith Cahen, filmmaker, actress and author of "La croisade d'Anne Buridan" (1995) and "La révolution sexuelle n'a pas eu lieu" (1998), has been pursuing an autobiographical cinematographic project for several years now, which also questions the very fine boundaries between cinema, dance and contemporary art. Being on borders, being at the frontier of disciplines, borders of states of perception and emotion, that's what she's all about". Pascale Cassagnau, future amnesia, investigations into a third cinema, 2007
ADN is distributed by le peuple qui manque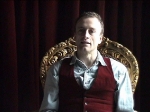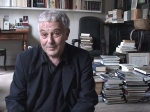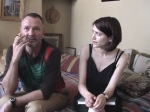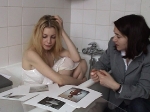 Curating & texts : Kantuta Quirós & Aliocha Imhoff / le peuple qui manque