The right to madness
Wednesday, January 14, 2009 – 8:30 pm
Cinéma Le Méliès
In the presence of François Pain and Jean-Claude Polack (psychoanalyst and editor of Chimères magazine)
Focus on the La Borde experience, whose project – a libertarian utopia, a permanent revolution, a laboratory for the artistic and political movements of the 1960s-1970s, innovative social and therapeutic practices and a critique of society as a whole – was to treat madness differently.
The Clinique de la Borde, founded by Jean Oury and a group of young psychiatrists influenced by the psychiatric revolution of the '40s and then by May '68, sought "to make patients live while curing them". This movement, of which the psychoanalyst Félix Guattari was a vibrant figure, took into account the creative and productive dimension of madness, and, by breaking away from the repressive dimensions of traditional psychiatry and psychoanalytic conformism, redesigned the relationship between carer and cared-for. Challenging hierarchies and divisions of labor, he placed the institution at the center of the therapeutic process.
La Borde ou le droit à la folie (La Borde or the right to madness)
by Igor Barrère (1977, 60')

La Borde ou le droit à la folie is a luminous stroll through the La Borde clinic, where we meet patients, Jean Oury and Guattari, and a collective life in the making. The film's staging is organized around meetings to discuss the film in progress, the passage of time, a certain gentleness and a palpable utopia.

Min Tanaka à la Borde (Min Tanaka at La Borde)
by Joséphine Guattari & François Pain (1986, 25')
presented by Violeta Salvatiera (dance researcher)
"Together we embody a single body that belongs to no one, the body of the earth" Min Tanaka. "Atmospheric variation", "imperceptible molecule", from his "meteorology laboratory of the body", the great Japanese butô dancer Tanaka Min, at once human and animal, mineral and vegetable, child and old man, madman and beggar, arouses the emotions of the residents of La Borde, and offers, through his chaos dance, a unique experience that touches closely the collective unconscious and the secret forces of the universe.
François Pain is a filmmaker and author of numerous films on alternative psychiatry experiments. A close associate of Félix Guattari, he worked for seven years at the La Borde clinic. He took part in the epic of free radio (1977/1981), co-founding the Fédération de Radios Libres Non Commerciales and Radio Tomate. Co-founder of "Canal Déchaîné" (1991) and "Chaosmédia" (1994), associations whose aim is to develop theoretical reflection on the theme of the media, as well as a different approach to audiovisual production and broadcasting.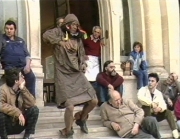 Texts & curating : Kantuta Quiros & Aliocha Imhoff