Silence = Death
ACT UP / New-York
Friday, March 20, 2009 – 8:30pm
Maison Pop' de Montreuil
Free admission
Screening in the presence of
Yann Beauvais (filmmaker, to be confirmed), Marion Scemama (photographer),
Marjolaine Degremont (president of Act-Up Paris).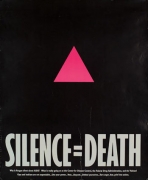 This session is devoted to the political art produced by the New York art community following its confrontation with AIDS in the late 80s. Particularly hard hit by the epidemic, a generation of New York avant-garde artists waged a battle against the disease and, above all, against its political management during the Reagan era, developing a singular cultural activism, transforming, through their artistic practice, the usual modes of action and resistance. We'll also take a look at DIVA TV, a unique project to broadcast and archive ACT UP New York's actions.
Silence = Death
by Rosa von Praunheim (55min, 1990)
In her beautiful documentary Silence = Death, the first part of a trilogy devoted to AIDS, acclaimed German director Rosa von Praunheim films the generation of performers, visual artists and video artists who lit up the New York underground scene in the '80s. Cult graffiti artist Keith Haring gives an account of his public and graphic art in the service of his struggle; the flamboyant spoken-word prose of East Village neo-beat writer David Wojnarowicz permeates the entire film, as does the presence of Allen Ginsberg and many other artists. The Gran Fury collective of visual artists is developing an unprecedented experiment in cultural activism within the media and the art world.
Rosa von Praunheim, a prolific cult writer and filmmaker, is a leading figure in Germany's gay liberation movement. He has made numerous films about underground and queer culture.

Like a Prayer, stop the church
by DIVA TV (28min, 1990)
ACT UP New York initiated spectacular activism, using the symbolic power of bodies in public space. Part of the civil disobedience movement, but rethought in terms of minority politics, it marks the beginning of a new kind of protest and a new way of doing politics: first-person, provocative, direct and surprisingly effective and joyful. We'll be showing Like a prayer, a video produced by DIVA TV, the pioneering network of New York videographers founded in 1989, which filmed these highly interpellative Act up actions on the borderline between artistic and political intervention. According to DIVA TV's credo, activists themselves produced their own version of an event, taking control of their own history.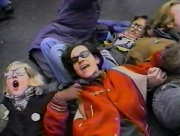 Curating & texts : Kantuta Quiros & Aliocha Imhoff