Writers make films #1
Autofiction: for a minority cinema
Thursday, October 21st, 2010
8:30pm – Cinéma Lux, Caen
Hervé Guibert / David Wojnarowicz / Jean Genêt

In the presence of Agnès Vannouvong (author of Jean Genêt ou les revers du genre and L'image androgyne chez Hervé Guibert) and Albert Dichy (literary director at IMEC)
"In minorities, the private affair is directly political" Gilles Deleuze
Writers and poets such as Hervé Guibert, David Wojnarowicz and Jean Genêt have used cinema as an extension and fulfillment of an autofictional enterprise and a politics of the self, begun in the field of literature.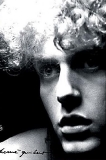 La pudeur ou l'impudeur, made in 1991 during the last two years of writer Hervé Guibert's life, is a video diary of his illness, AIDS. In this staggering film, Guibert brings his experience of the disease into the realm of representation, shifting the political divide between modesty and impudence, the norms of the dicible, a distribution of the nameable, the viewable, the norms of truth. Although Guibert's cinema does not claim to be directly political, it does make possible the figuration of sick bodies, which had hitherto been exiled from the field of the visible, particularly in their day-to-day existence, as part of what Michel Foucault called "the insurrection of subjugated knowledge". The patient himself, hitherto the object of medical knowledge, became a subject, producing a discourse and images that turned the point of enunciation on its head and overturned the devices of representation. Guibert's cinema reconfigures the ethical framework of representation by staging itself, abolishing the classic opposition between filmmaker and filmed, author and subject, and moving into the realm of autofiction. Pudeur ou l'impudeur thus constitutes a threshold in the history of documentary cinema, with Guibert's self-narration thus escaping the injunctive device of testimony, from which he would probably not have been able to extricate himself within the framework of the classic documentary device.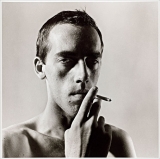 "When I was told that I had contracted this virus, I immediately understood that it was above all the virus of this sick society that I had contracted" (David Wojnarowicz).
An exhortation to action, a dissection of the mechanisms of power, a proud affirmation – the power of the images by David Wojnarowicz, a writer, video artist, photographer, visual artist and neo-beat performer from New York's East Village, lies in the singular chiasmus he forged between subjective and collective experience, turning his experience of AIDS into a prism for the political analysis of an entire society. In this way, the capitalist, imperialist, homophobic and puritanical machine of late 1980s America, "the monoclonal nation" as Wojnarowicz called it, is diffracted by a vision exacerbated by drugs or orgasmic burning. "I break the mental/physical chains that enslave me to the linguistic code," he wrote. The furious, flamboyant prose of his spoken words and filmed chronicles, working to displace and reinvent the dicible, contributed to a reconfiguration of effective discourse and images on AIDS in the social space.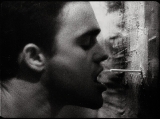 "Cinema is essentially immodest. Since it has this ability to magnify gestures, let's use it. The camera can open a fly and delve into its secrets. If I deem it necessary, I won't deprive myself." (Jean Genet)
Un chant d'amour (A Song of Love), a film-poem that has long gone underground, is the only filmed record of Jean Genêt's tumultuous love affair with cinema. As the screenwriter of numerous unseen films never made, Jean Genet wrote more pages of screenplays than any other piece of literature. With Un chant d'amour, he delivers a masterpiece of inextinguishable solitude and the exasperation of desire, a dreamlike work in which the cinematic experience becomes the site of a confrontation between mental images, fantasies and the desiring body.

Films shown : La pudeur ou l'impudeur de Hervé Guibert (1992, 58 min) l Last Night I Took a Man de David Wojnarowicz (1989, 3 min) l Un chant d'amour de Jean Genet (1950,  25min)
Texts and programming: Kantuta Quiros & Aliocha Imhoff
This evening is produced in partnership with Documentaire sur Grand Ecran.