Mardi 6 Avril 2010 – 17h

Groupes d'interventions

(video performance & politics)
NON GRATA / R.E.P. GROUP / CHTO DELAT ?
MUJERES CREANDO / INTERNACIONAL ERRORISTA
Beaux-Arts de Paris

D'Europe de l'Est (Russie, Ukraine et Estonie) à l'Amérique latine (Argentine et Bolivie), de nombreuses expériences collectives ont récemment surgi qui relèvent, au-delà de la performance, de l'intervention urbaine et d'actions artistiques sans séparation avec l'activisme politique. Le peuple qui manque propose le 6 avril prochain un panorama subjectif de productions vidéos qui accompagnent ces pratiques groupales et signent le renouveau d'un art politique contemporain.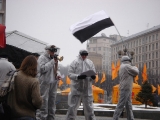 R.E.P. (Revolutionary Experimental Space) Group
a été créé à Kiev en 2004 par de jeunes artistes ukrainiens, en réaction à la période historique de la Révolution Orange. R.E.P. choisit l'espace public comme domaine de ses expérimentations artistiques. Les vidéos de R.E.P Group ont été montrées à la biennales de Prague en 2009 notamment.
R.E.P. Party (2006, 4 min) – Untitled action, (2005, 3 min) – We will REP you (2005, 11 min) – Broadening of mind (2005, 4 min)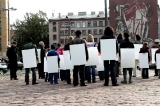 Fondé début 2003 à St Petersbourg, le groupe de travail
Chto delat ?
(
Que faire ?
) est animé par un collectif d'artistes, critiques, philosophes et écrivains, qui développe des projets artistiques collaboratifs, notamment au travers d'œuvres vidéo, d'installations, d'émissions de radio ou d'explorations artistiques de l'espace urbain. Plate-forme pour la créativité engagée, Chto Delat ? construit son travail depuis une perspective collectiviste et d'auto-organisation, s'attachant aux poétiques et politiques aujourd'hui, avec une attention particulière pour la situation de la Russie contemporaine. Dans ses vidéos, Chto delat ? utilise les procédés de détournement ou de re-enactement, remettant en scène en scène des films de Jean-Luc Godard ou des textes de Bertolt Brecht. Le travail de Chto Delat ? a été montré en France au Plateau en 2007.
2 + 2 Practicing Godard (2009, extrait, 8 min) – Angry Sandwichpeople, or in a Praise of Dialectic (2006, 8 min)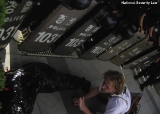 Non grata
est un collectif de quarante artistes de performance venant pour la plupart d'Estonie (Tallin), mais aussi du Chili, de la Finlande, de l'Allemagne, de la Suède et du Québec. Le collectif Non Grata se distingue par l'anonymat de ses membres, sa dissociation de la scène artistique locale, son mépris pour les médias de masse, ses actions sauvages et ses performances pouvant se prolonger pendant plusieurs jours (les «ghettomarathons»). Les vidéos de Non Grata ont été montrées en Asie, Europe et aux Etats-Unis.
Catolica Chile Santiago Action Lecture Series – Part 2 (2005, 3 min) – Doctors 173 (5 min, 2005) – Doctors 171 (5 min, 2005).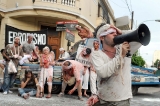 Fondée en 2005, l'
Internacional Errorista
est un mouvement international qui revendique l'erreur comme philosophie de vie – l'erreur, nouveau principe ordonnateur de la réalité actuelle. L'Internationale Erroriste a surgi d'un programme d'actions lancées pour dénoncer la visite de George W. Bush et le Sommet des Amériques dans la ville de Mar del Plata, Argentine, en 2005. Issus du collectif Etcétera, les Erroristes ont orienté leurs réflexions autour de la figure et du stéréotype de l'ennemi (t)erroriste, dans la dénommée guerre globale contre le terrorisme.
Urban Errorist Cartography (5 min, 2009)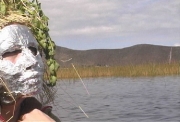 Le collectif féministe bolivien
Mujeres creando
mène depuis plus de quinze ans, une passionnante élaboration entre intervention urbaine, critique radicale, utopie irrépressible, célébration faste du corps, du plaisir, du quotidien, des puissances de l'imaginaire. Graffiteuses et vidéastes, elles rejettent toute séparation de l'art, leurs actions de rue dessinant une posture éthique unique en son genre d'agitatrices, en lutte contre les oppressions patriarcales, les schémas coloniaux, les politiques néolibérales.
Acciones – Creando Mujeres – sélection (2001, vost, 9′) – Mujeres Creando & Maria Galindo – Mama no me lo dijo – sélection (2003, vost, 8′)

Programmation : Aliocha Imhoff &
Kantuta Quiros / le peuple qui manque
Informations pratiques:
Ecole nationale supérieure des beaux-arts
14 rue Bonaparte, 75006 Paris
Salle de conférences