Mercredi 21 Mars

Cloture
20h

Cinéma cyborg


« Pour que l'humain soit humain, il doit être en relation avec ce qui est non-humain, avec ce qui certes est hors de lui, mais dans son prolongement, en vertu de son implication dans la vie. Cette relation avec ce qu'il n'est pas constitue l'être humain en tant que vivant, de sorte que l'humain excède sa frontière dans l'effort même qui vise à l'établir. (…) Il serait absurde de croire que la vie est pleinement possible sans dépendance à l'égard de la technologie, ce qui suggère que l'humain, l'animalité, dépend de la technologie pour vivre. En ce sens, nous pensons dans le cadre du cyborg lorsque nous remettons en question le statut de l'humain et celui de la vie. » Judith Butler, Défaire le genre

Dandy dust de Hans Scheirl

(Autriche, 94', vidéo, 1992- 1998)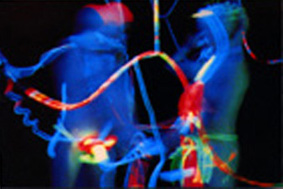 « La planète 3075 est un être cybernétique et hermaphrodite. Dans sa vessie, les habitants humanoïdes échangent des fluides vitaux entre eux et avec le corps qui les accueille. De nombreux éons tournent en éternelles boucles. Désormais Dust fait entièrement partie de cette structure poly-orgiastique. » Le narrateur de Dandy Dust

Une personnalité cyborg, schizée, gender-fluid, passe en trombe à travers le temps pour collecter ses MOIs dans une lutte contre une super-mère hantée par sa généalogie. Inspiré par Hong Kong, les séries de live-action tirées des mangas japonais, les splatter films (films d'horreur), le queer underground, le féminisme et l'Actionnisme viennois, Dandy Dust est un bijou de long-métrage, transgenre, science-fictionnesque, dont l'hybridation entre les genres n'a d'égales que la sophistication et la beauté des procédés de fabrication, un travail somptueux autour des couleurs et des matières, un sens de l'exagération le plus camp et la poétique et violente crudité d'un univers sexuel proliférant.

Hans Scheirl est cinéaste, peintre et écrivain anglo-autrichien. Il a participé notamment aux films Venus Boyz et Pansexual Public porn que nous projetons pendant ce festival. Il est auteur de The Manifesto for The Dada of the Cyborg-Embrio.
Nous nous retrouverons autour d'un verre offert par le festival à l'issue de la projection !