Sexual Revolution
Johanna Demetrakas / Lionel Soukaz / Jack Smith
Wednesday, December 19, 2007 at 8 p.m.
at Le Méliès cinema

With the presence of Lionel Soukaz and Elvan Zabunyan (art historian, specialist in American art and feminist and postcolonial theories in the U.S., author of Black is a color).
Womanhouse by Johanna Demetrakas
(1974, 47 min, Couleur)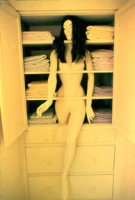 "In 1972, a much talked-about exhibition was created: Womanhouse. Under the direction of Miriam Shapiro and Judy Chicago, who became major figures in feminist art in the 70s and 80s (…), twenty-four women (including Faith Wilding) set up a house in Los Angeles. As domestic space became exhibition space, the distinction between public and private disappeared and the conventions governing representation were shattered; the bathroom and the doll's house became exhibition spaces "appropriate" for feminist art. "Womanhouse" celebrated what had been considered trivial: beauty products, tampons, linens, shower caps and underwear became highly artistic materials. All the media took an interest, often producing sensational reports; the exhibition proved that feminist art had a large and passionate audience" Peggy Phelan, Art and Feminism, ed. Phaidon.
Womanhouse is a prodigious historical documentary on one of the most important feminist cultural events of the 1970s in the USA. It not only bears witness to several famous performances such as Faith Wilding's Waiting or Judy Chicago's Cock and cunt play, but also to the various rooms in the house exhibition Nurturant Kitchen, Menstruation Bathroom, Nightmare Bathroom and the Linen Closet installation, as well as the collective consciousness-raising workshops, public interaction and energy of the period. KQ&AI (distribution: le peuple qui manque)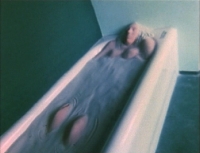 La marche gay by Lionel Soukaz
(13', 1980) / in his presence
The Gay March is all about treading on Washington soil. The White House and Senate were surely empty when thousands of gays and lesbians marched past their gates during the 1979 Gay Pride with Guy Hocquenghem, Kate Millet and Allen Ginsberg, both actors and spectators of their own revolt. Of their own hope: that the repression will finally end.
"Lionel Soukaz is a rare auteur. He films without taboos, without concessions. A child of May '68, he is a man of sexual liberation, of the pleasure of living one's desires to the full, with drugs and sex. A sensitive witness of his time, the man who filmed his friends Guy Hocquenghem, Copi and the less famous also filmed the tragedy of AIDS, from Act Up meetings to the white walls of the hospital. His friend, the philosopher René Schérer, describes his style and tone as "a desperate vitality", while Nicole Brenez, a fighter for experimental cinema, describes his films as "political eros". Aude Lavigne, France culture, 2002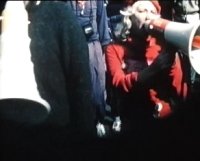 Flaming Creatures by Jack Smith
(1963, 45min, Etats-Unis)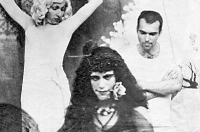 Jack Smith is one of the leading figures of American underground cinema. His fame and importance extend beyond the realm of experimental cinema, insofar as his performances had a major influence on the American theater of the late 60s. From its very first screenings, Flaming Creatures aroused the ire of censors in the USA, and was banned for a long time (Jonas Mekas and Ken Jacobs were arrested in 1964 for trying to show it publicly).
Flaming Creatures is shot on out-of-date 16mm film. A rare film with a reputation for innovation and shock. A sexually deviant film that blends orientalism, vampirism, earthquakes and transvestites in an almost unique Dionysian orgy sequence. Censored for being pornographic, the film is more akin to Greek tragedy. Ginsberg praised its free artistic expression and its propensity for dissidence. (Cinémathèque de Toulouse).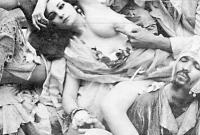 Textes: KQ&AI