Stéphane Marti
The bite of desire
Friday, January 11, 2008 at 8:30pm
Maison Populaire de Montreuil
Free admission
In the presence of Stéphane Marti.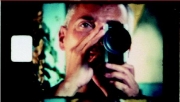 Stéphane Marti has made experimental cinema the place for the invention of a baroque and flamboyant filmic practice. A major filmmaker of one of the most important trends in French experimental cinema of the 70s, close to body art: "L'Ecole du corps", where troubled identities and the ritual splendors of a homoerotic imaginary blend, chiseled by super-8, which combined visual splendor with artistic and counter-cultural independence.
A fervent defender of this medium, Stéphane Marti has since developed an operatic aesthetic of intimacy, whose mannerist decadence and telluric forces, golds and purples, forge the numerical coordinates of his "little theaters of the body".
He explores "the shades of the male body palette: the sculptural body, the transvestite body, the androgynous body, the bruised body, the sacred body, the forbidden body, the pleasure body, the object body, the soft body, the liberated body, the purified body".
Allegoria (1979, 14')
"A veritable concerto for body and camera celebrates the cult of Eros, at once an allegory of the fury of homosexual desire, and a vast shimmering of the male body, subject-object of all ambiguities."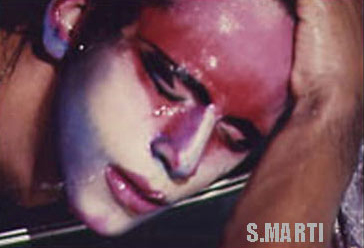 Alex's metaphors (1999, 15′)
"In 1999, Stéphane Marti shot Les métaphores d'Alex, an ethereal, eminently baroque film, a sensitive arrangement of finery and reflection (…). The celebration of the body remains an absolute necessity. It leads to profane rites". (Raphaël Bassan)
Mira Corpora (2004, 45′)
"With Mira Corpora (French for 'admirable bodies'), Marti outdoes himself. He gives his great body films of the '70s a sequel and a fulfillment." (Dominique Noguez)