Pioneers of the experimental and essay French feminist cinema

Friday October 12 – 20:30
Maison Populaire, Montreuil
FREE ENTRY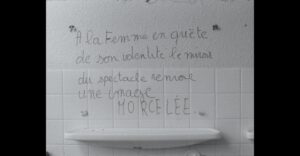 "The glance of the women, one does not know it" wrote Viviane Forrester in 1976.
With this first meeting devoted to the pionnières of the cinema of test and experimental feminist French, this cycle opens by the inaugural gesture carried by three directors "to cut out, decipher and invent" the world, exauçant the wish of these years to seek "collectively and individually a female language". At the same time with the scenario writers and collectives which will film the fights of the women directly, some will try to invent a new way of producing images. Thus the glance until there far too absent from the women is spread, coming "qualitatively to change words and thoughts, to bring really revolutionary contents" to their films. "(…)  I have the desire that women and men change. As beginning with a different beauty" said Danielle Jaeggi then.
With the presence of Anne-Marie Faure, Michka Gorki, Danielle Jaeggi and Helene Fleckinger (historian of the seventies feminist cinema)
Curators: Aliocha Imhoff & Kantuta Quiros (with the advise of Helene Fleckinger).
SORCIERES-CAMARADES (1971, 10 mn) by Danielle Jaeggi
"A film on the women/a film by women/a film for the women/With a camera of man. One day of the women will see these images of our sad survival and will wonder how we could support it. " (extracted) (distribution: le peuple qui manque)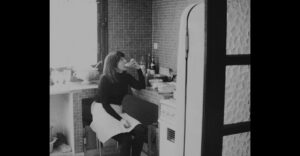 UN GESTE EN MOI (1972, 20 mn) by Danielle Jaeggi
"(…) Entraîneuse of fathers – Insane centres in the air – familiar Nymphomaniac – Hysterical hat. Images of women. They stick everywhere. To discuss it itself in knowledge of sex. " Danielle Jaeggi, Paroles… they turns! , 1976
"In the capitalist company, all is based on alienation, the fact that one exists by the glance of others. " (extracted) (distribution: le peuple qui manque)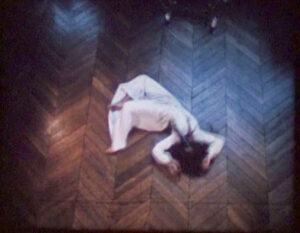 INTERPRETATIONS (1975, 11 mn) by Michka Gorki
"The infirmity of the illusions
The continual alienation of unforeseen aggressions
the impunity of a strong anonymous crowd of a cohesion of cowardice
Impotence vis-a-vis the irremediable one.
To control its fulgurating revolts
With each one its silly thing, quite personal, limited well. " (Extracted)
"I carried out a film in which I howled my revolts of woman, of aculeate actress to the madness not to want to play the game of the bestiality of the company" Michka Gorki, Paroles… they turn! , 1976 (distribution: le peuple qui manque)
MALEDICTINES by Anne Marie Faure and collectif Vidéa (1975, 14 min)
Experimental film on the female body. Video collective, lived, filmed and assembled by five women.