Queer Black Art
Marlon Riggs, Howardena Pindell, Wapinduzi Productions
Friday, February 8, 2008 at 8:30pm
Maison Populaire de Montreuil
Free admission
"Racism, like sexism, is above all a visual pathology: it is based on the differences we perceive from appearances, not on differences of genetic ancestry. Art is above all a visual medium. So political art should seem to have the potential to provide a powerful antidote to racism…" Adrian Pipper, 1998 (quoted by Elvan Zabunyan in Black is a color). Since the 60s, African-American artists in the United States have been involved in feminist art, and since the 90s, in queer art, confronting the oppressions inscribed in their bodies and skins. The visual arts have become a privileged site for such critical work. Through the poetic and political elaboration of a plastic culture reflecting the black experience and that of abject sexual subjects, activist videos and artist videos have taken up the challenge of inventing utopias and autonomous identities.
Tongues Untied by Marlon Riggs (55', 1990)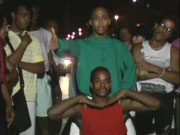 "Black men loving black men is the revolutionary act", says "Tongues untied", a 1990 film by African-American filmmaker, teacher, activist and essayist Marlon Riggs, who died of AIDS in 1994, in this artist's film about belonging to both black and gay identities, and the difficulty of representing oneself in an experience that is thought to be contradictory. The characters in Tongues Untied all find themselves exiled from themselves, echoing the singular narratives of black men struggling with the homophobic contempt of the black community and the denial of any recognition of blacks in the Californian gay community. This film, with its incantatory beauty, is also about silence as a deadly weapon, about unexpressed anger, about the humanity whose insult seeks to unravel, and about the social death engendered by racism and homophobia in American society. One of the voices in the film says: "I was an invisible man, I had no shadow, no substance, no place, no history, no reflection". The interweaving narratives, interspersed with poems by Essex Hemphill, Steve Langley and Alan Miller, songs by Nina Simone and Roberta Flack, and rap performances from the ballroom and voguing subcultures, break free of the silence, weaving a community of experience and a community of action.

Free, White and 21 by Howardena Pindell (1980, 12')
Born in 1943, Howardena Pindell is a conceptual painter of African-American origin, who uses video to explore the condition of women and colonialism. "As a black artist, the first effect you feel when you enter a gallery still has to do with the color of your skin. You are not seen first as an artist, but as a political entity", she said in 1980. Free, White and 21, a video in the form of a self-portrait, recounts the artist's experiences, criticizing white feminists and racism in the art world. (distribution: le peuple qui manque)
Via New Work by Kagendo Murungi (Wapinduzi Productions) (1995, 10')
"We move our bodies unfettered, through increasingly familiar spaces, setting out on a journey into unknown lands."
Via NewYork explores the politicization of African students in New York and the participation of South African lesbians and gays in the struggles against apartheid, and is thus a snapshot of African lesbian and gay lives through the lens of migration and university life, experiences that both catalyze self-transformation and social change.
Wapinduzi Productions is an African multimedia, translocal and indigenous base for the independent creation and distribution of feminist and LGBTST videos "of color" around the world.
Texts and curating : Kantuta Quirós & Aliocha Imhoff