Fractured geographies #3
Jean-Charles Hue
Wednesday, February 24, 2010 – 8:30 pm
Cinéma Le Méliès
Tijuana Carne Viva
by Jean-Charles Hue (2009, 96 min) 
In the presence of the director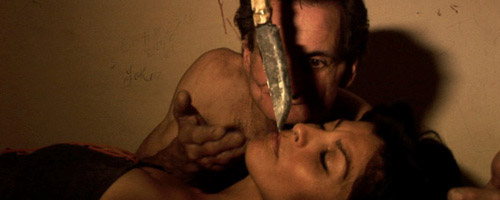 In Tijuana, men and women try to escape from loneliness and death. A dog-bone knife, passed from hand to hand, serves as a common thread, drawing the physical and fantastical cartography of a city torn apart.
Once again, Jean-Charles Hue explores a marginal territory in search of humanity and its inextinguishable thirst for life. An ode to vitality, a troubling, kaleidoscopic work that navigates between documentary and fiction, this first feature confirms the singularity of the writing of the author of "Y'a plus d'os".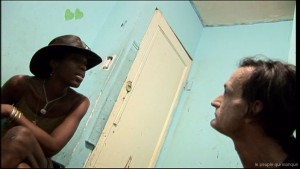 Tijuana Carne Viva. Tijuana, a border town between Mexico and the United States, a hub for illegal immigration and trade, a land of stray dogs, a fractured geography. Tijuana is also riven by the mental fractures of its inhabitants: junkies, whores, lonely lovers and healers.
Engaging in tense hand-to-hand combat with uncertain characters "who oscillate between a heaven we have to believe in to better exorcise the violence that attaches itself to this earthly life", Carne Viva's documentary device offers autonomy to the self-narrative of characters on the edge, tightrope walkers on the brink of death and a luminous, revitalized life.
The viewer is often unaware of whether the film is a documentary or a hallucinatory trance of fragments of existence.
In Tijuana, it's possible to reinvent a thousand destinies, through the power of words, senseless poetry and dog-bone knives, intercessors between earthly violence and baroque onirism, the world of fantasy and that of obscure forces.
Jean-Charles Hue, born in 1968, is a visual artist and video maker. He is the author of a number of documentary films, most notably L'Oeil de Fred (2008) and Y'a plus d'os (2006), his acclaimed dive into the heart of the gypsy world from which he hails. In 2009, Jean-Charles Hue took part in the Bandits-Mages festival in Bourges and the Hors Pistes festival at the Centre Pompidou in Paris. In 2007, he had a solo exhibition at the Ricard Foundation, while in 2006 he was awarded first prize at the Loop festival in Barcelona. He is represented by Galerie Michel Rein (Paris).
Curating: Kantuta Quiros & Aliocha Imhoff / le peuple qui manque