Géographies fracturées #2
A New World Border
Vendredi 8 Janvier 2010 – 20h30

Border Art Workshop / Guillermo Gomez Peña & Isaac Artenstein
Laura Waddington / No Border Camp / Almagul Menlibayeva

Maison Pop' de Montreuil
ENTREE LIBRE
Lors de cette seconde séance intitulée « A New World Border», en hommage au livre de l'artiste chicano Guillermo Gómez-Peña, nous verrons comment des artistes, vidéastes, performers, travaillant depuis leurs expériences de la migration et de l'exode, défont nos frontières imaginaires et géopolitiques pour mieux reformuler de nouvelles topographies.
Exodus – Almagul Menlibayeva (2009, 11 min)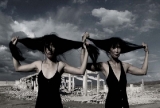 Avec Exodus, Almagul Menlibayeva puise dans les traditions nomades du Kazakhstan contemporain et ses rites chamaniques pour narrer sa propre expérience de l'exode culturel et du déracinement mondial. Née en 1969 au Kazakhstan, Almagul Menlibayeva est diplômée de l'Université d'Art et de Théâtre d'Almaty, sa ville natale, en 1992. Elle vit aujourd'hui à Amsterdam et Berlin. S'ancrant souvent au cœur de steppes kazakhes, riches en mythologies, les vidéos de Menlibayeva offrent une réflexion romantique et mélancolique sur l'héritage complexe qui se trouve enfoui dans ces paysages et dans les ruines de l'ère soviétique. Exodus a été présenté notamment à la Biennale de Venise 2009.
Border Art Workshop / Taller de Arte Fronterizo
(1986-2000, 18 min) – inédit en France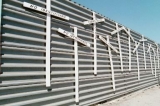 Dans la lignée du Chicano Art Movement, né aux Etats-Unis dans les années 70, le mythique collectif Border Art Workshop (BAW) / Taller de Arte Fronterizo (TAF), entremêlant performance, vidéo et activisme, travaille, depuis 1985, autour du topos politique, culturel et imaginaire de la frontière, à partir d'actions site-specific sur la frontière mexicano-américaine. Alors que le mouvement du Chicano Art avait déjà revendiqué la notion de culture frontalière, et posé le spanglish (langue hybride d'espagnol et d'anglais inventée par les migrants mexicains aux Etats-Unis), comme une poétique de l'hybridation culturelle, l'émergence du BAW / TAF, fondé à San Diego, par Isaac Artenstein, Sara Jo Berman, Jude Eberhard, Guillermo Gomez-Pena, et Michael Schnorr, a coïncidé avec l'édiction de nouvelles lois migratoires aux Etats-Unis, une intensification industrielle de la frontière, et la nouvelle centralité du multiculturalisme dans les débats artistiques américains. Entre activisme politique et land art, le BAW/TAF dénaturalise la frontière, devenant à la fois mur et passage, suture et brisure. San Diego-Tijuana 1986-2000 (sélection des archives vidéo de BAW/TAF, 20 min) :
End of the line (12 octobre 1986, 3 min.), Counter Performance Light Up the Border (1987, 3 min.), El Bordo-Tijuana (198, 3 min.), Oh George Oh Panama (19 Octobre 1989, 4 min.), Brownsville to Tijuana – Border Sutures (1990, 2 min.), 600 Crosses 20 miles per hour (2000, 3 min)
Son of border crisis – Guillermo Gómez Peña
(1990, 17 min) – inédit en France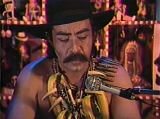 « Chicano post-mexicain » émigré en Californie, Guillermo Gómez-Peña, membre fondateur du BAW/TAF, puis en 1993 du collectif transdisciplinaire la Pocha Nostra, est un performeur, écrivain, vidéaste, de renommée internationale. Ses vidéoperformances, coréalisées avec Isaac Artenstein, œuvrent à l'émergence d'un monde de la frontière : un « new world border » alternatif au nouvel ordre mondial (« new world order »), par l'invention d'une formidable langue poétique et ses mises en scène grotesques et rageuses qui mettent en cause l'Amérique raciste des années 1980.
Les vidéos du BAW/TAF et de Guillermo Gómez-Peña sont montrées pour la première fois en France.
No Borders Camp / Campamento Contra Fronteras, Mexicali/Calexico – MONO MONO
(2007, 9min) – inédit en France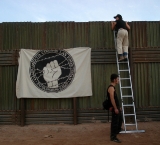 Le No Borders Camp / Campamento sin Fronteras, Mexicali/Calexico au eu lieu en 2007 sur la frontière mexicano-américaine. Ce camp – issu des mouvements libertaires et activistes de solidarité transfrontalière avec les migrants – s'inscrit dans la tradition des camps No Border organisés à travers le monde depuis les années 90. Outre les revendications de liberté de circulation, d'abolition des frontières et des contrôles migratoires, le No Border Camp est au cœur des nouveaux activismes qui utilisent l'internet militant, les réseaux décentralisés, et la production et mise en circulation alternative d'information.
Border – Laura Waddington (2004, 27 min)

La cinéaste anglaise Laura Waddington, née en 1970, offre, de manière rare, avec son film Border, et à l'aune de sa propre mise à l'épreuve, la puissance fragile et élégiaque du cinéma à saisir la condition des migrants dans le camp de Sangatte et simultanément une analyse des dispositifs répressifs et de contrôle migratoires. Les vidéos de Laura Waddington ont été présentées dans de nombreux festivals internationaux de films et dans des expositions et musées comme le Centre Pompidou, ou le Musée Reina Sofia à Madrid.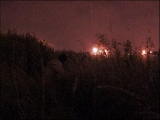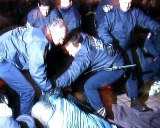 Programmation et textes : Aliocha Imhoff & Kantuta Quiros / le peuple qui manque
A New World Border : Prophecies, poems & loqueras for the end of the century de Guillermo Gómez-Peña a été publié aux éditions City Light Books San Francisco en 1996.