Les Impatients
A Chronopolitical Serie
Les Impatients, Season 1 (2019, 45 min)
by Aliocha Imhoff & Kantuta Quirós.
For curators who would like to watch the first season, please send us an email and then click on the following page.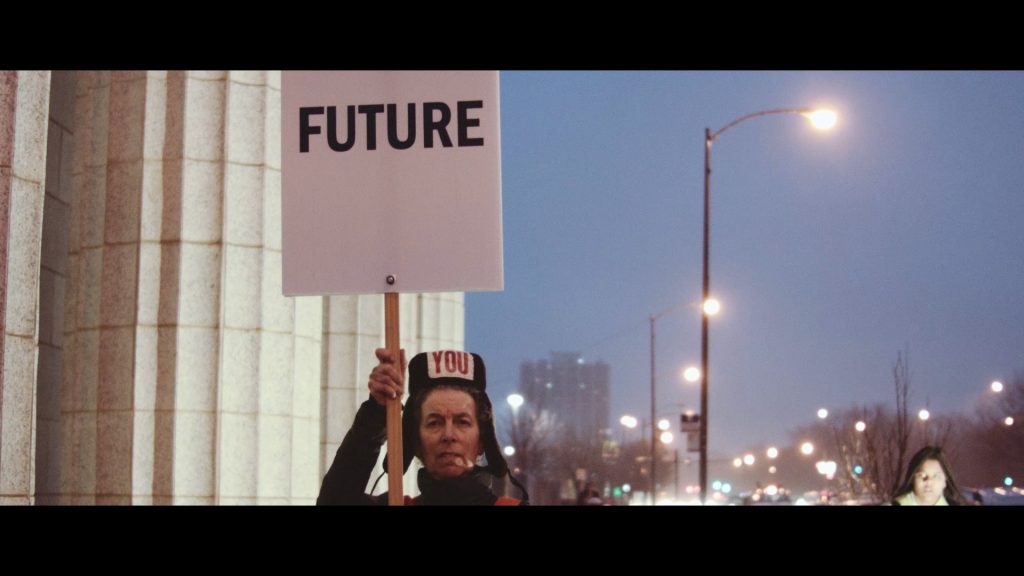 "Les Impatients" is a film-essay in the form of a "chronopolitical" series, about the imaginations of time, as much as about the impatience that we carry within us to find back the time of the Event, the possibility of the future, in this moment that we are going through, particularly in Europe, that of the greatest obstruction of politics, this feeling of the greatest powerlessness. The Impatients are those who are engaged in a movement of reconstruction of the future, of futures, those who carry within them this impatience with regard to a History that now seems motionless, stopped. We are collecting salvos of the future that many artists and thinkers are witnessing today and filming spaces-time – what we will call chronotopes – from which a singular temporal thought is invented, particular knotting of time.
Episode 01 – A Museum of Times – takes place in Chicago and Detroit where the twilight ruins of the subprime crisis and the wounds inflicted on black lives are contradicted by Afrofuturist imaginations and the Black Live Matters movement. Episode 02 – A Government of Times – takes us to Leipzig where the movement that would lead to the fall of the Berlin Wall historically began. Episode 03 – Suspending Time – returns to Paris, during Nuit Debout, where the calendars were undone and where, like an epiphany, the common joy of rediscovering the possibility of politics has resurfaced. Episode 04 – A Debt of Times – from Dakar, draws the shivers of another future for Africa." – Aliocha Imhoff & Kantuta Quirós
Les Impatients, Season 1
E01 – A Museum of Times (Chicago)
E02 – A Government of Times (Leipzig)
E03 – Suspending Time (Paris)
E04 – A Debt of Times (Dakar)
Year: 2019 – Duration : 45 min – Format: 4k, 2:35 – Media: DCP, Prores ou H264
Versions: French and English
With Krista Franklin, Amir George, Devin King & Caroline Picard, Ellen Rothenberg, Camille de Toledo, Ibaaku, Ican Ramageli, Felwine Sarr, Maurizio Lazzarato, François Hartog, Diann Bauer, François Cusset, Lionel Ruffel, Emilie Noteris, Benjamin Noys, David Graeber, Frédéric Lordon.
Texts by Aliocha Imhoff & Kantuta Quirós, Krista Franklin, Camille de Toledo, Maurizio Lazzarato, Paul B. Preciado, Patrice Maniglier, Patrick Boucheron, Felwine Sarr.
With the support of the Patronage Commission of FNAGP.
The first episode in A Museum of Times – ​Chicago  was shot during the Méthode Room residency programme led by Guillaume Désanges at the Rebuild Foundation (established by artist Theaster Gates) with the support of the French Institute, the Cultural Services of the French Embassy in the USA, the University of Chicago and the Théâtre de la Ville. The episode A Government of Times was shot with the support of Halle 14  Leipzig Contemporary Art Center and thanks of Fond Perspektive.
The first season has been presented in :
– Brouhaha, les mondes du contemporain (Khiasma, 19 February 2016, cur. Lionel Ruffel)
– States of Opacity, Dakar Biennale (8 May 2016, curated by Mara Ambrožič and Elvira Dyangani Ose)
– Bergen Kunsthall Landmark, Norway, 22 September 2016 (at the invitation of Alt Gar Bra)
– Excusez-moi de vous avoir dérangés. Narrateurs intempestifs du passé-présent-futur, Khiasma, exhibition from Oct. 20 to Dec. 17, 2016 (Curator: Olivier Marboeuf)
– « Curating as rhapsody », within the framework of On Mediation 4, seminar on curatorship and research – AGI (Art Globalization Interculturality), directed by Anna Maria Guasch and Martí Peran, University of Barcelona, 9 November 2016
– Seminar "Time", Anicea, 24 November 2016 at the Gulbenkian Foundation
– "Rhapsodier les mondes" in Writing and Thinking with History on a World Scale, seminar directed by Catherine Coquio, Ines Cazalas, University Paris 7-Denis Diderot, February 21, 2017.
– Seminar "Sensitive Knowledge", EHESS, at the invitation of Frédérique Aït-Touati, Emanuele Coccia, Alice Leroy, 18 April 2017
– French Institute of Athens, Night of Philosophy, 16 May 2017, at the invitation of Camille Louis.
-FRAC de la Réunion, Cité des arts, Ecole d'Art de Saint-Denis de l'Ile de la Réunion, May 2017, at the invitation of Myriam Omar Awadi and Yohann Queland de Saint-Pern
– Narratives from a Near Future, HEAD of Genève, international symposium December 14 2017 and exhibition  24.11–16.12.2017.
– Standford University / EHESS, Contemporary Visions of the Future, 13 March 2018, at the invitation of Marielle Macé 
– Art Center of Geneva, Cinema Dynamo, 28 August 2018, at the invitation of Bénédicte Le Pimpec and Isaline Vuille
– Konsthall C, Stockholm, in the exhibition A Debt of Times, 24 August – 28 October 2018
– Night of Ideas and Philosophy, Brooklyn Public Library, New York City, February 2, 2019
– Institut Français du Maroc in Rabat, 18 April 2019, at the invitation of The Cube – independent art room.
– Goldsmiths, London, symposium "End-of-the-World Trade: On the Speculative Economies of Art and Extraction", at the invitation of Marina Vishmidt & Louis Moreno 12 June 2019
– Beaux Arts de Paris, seminar Arts of the Resistance, Nov. 24, 2020
– Mac Val – December 2020, as part of "Kinshasa South Station 1, Poetics of Latitudes", Biennale of Contemporary Art of Kinshasa
– Frac Provence-Alpes-Côte d'Azur, March 2021, as part of the seminar What can narrative do? Historical, artistic and curatorial practices (Beaux-Arts de Marseille).
– Atelier Medicis, June 26, 2021
– University of Paris, Amphi Turing, International Symposium About Time, Nov. 4, 2021
For curators who would like to watch the first season, please send us an email and then click on the following page.