Generation 90: The years AIDS
Wednesday February 13, 2008 – 20h
Cinema Le Méliès, Montreuil

Attention : This is an automatic translation !
Meeting in the presence of Marion Scemama, François Pain, and Arnaud Genon (author of "Herve Guibert. Towards a post-modern esthetics").
La pudeur ou l'impudeur by Hervé Guibert
(1991, 58')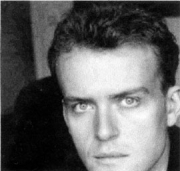 The writer Herve Guibert, deceased at the end of 1991 of the AIDS, and close to Michel Foucault, delivered himself, by writing and filming his disease and his body vis-a-vis the medical institution (and so that it described sometimes like a "therapeutic rape") with a reappropriation of oneself by the means of his autorepresentation. Decency or Impudeur, which it carries out in 1991, between filmed newspaper and setting in scene, authorized the figuration of suffering bodies, which were up to that point, and in particular in their everyday life, exiled in-on this side field of the visible one. (AI&KQ)
"When I saw the self-portrait of Herve Guibert, naked entering water, I could authorize my body to be assembled on scene. At that time, the patients of the AIDS were very ashamed of showing their body, they did not want to more leave nor to show themselves. Some left, and it was important to show its body, even when it was sick. And some of these people appeared very beautiful to me, one could see another beauty at them. " Raimund Hoghe, 2007
"Chronic of an announced death whose Herve Guibert films the repetition and describes the horror with the daily newspaper without vain decency, without kindness. The image, that as a photographer it controls perfectly, assistance to be made of this private conversation with the AIDS, – supreme confession of an autobiographical work – an act of faith in the literature, an ode with the life. This diary whose impudor asserted made scandal, gave rise to an important cinematographic current, of which it remains one of the successes. " (Documentary on Big screen)
"There is no interdict in art (even if there is a morals). There are strong or poor works.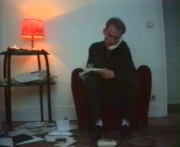 To film its death is a hard experiment. The hard core of a truth. Death with work in the body, the test of the forfeiture, jeopardizes total sincerity. Because it is necessary to take into account decency. One can all say. Is it necessary all to show, even the shame of degradation?
The film of Herve Guibert is luminous, air, and it is what surprises. Did he film his death or the representation that it is done some? The writer, who did not hide anything in writing evolution of his disease, excavating the lower part of the things and people arrived here at the diagram. Decency or Impudeur is not a film on the AIDS, it is the glance of an young man who will die, on the world which surrounds it and which it leaves. An incandescent film, a calm time, like a retirement. A space. " Catherine Humblot, "To film, it is always to live", Le Monde, February 2, 1992.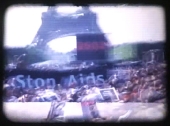 Requiem by Lionel Soukaz
(2003-2007, 5')
Requiem against the G8 and for the free distribution of the trithérapies to the patients of the AIDS of the poor countries and in particular African, Lionel Soukaz in the form of throbbing call, denounces the political and capitalist obstructions with the access to the care and the survival of the patients of the AIDS. (AI&KQ)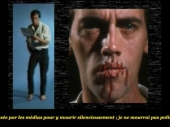 Last Night I took a Man…
Lecture de David Wojnarowicz
réalisé par Marion Scemama et François Pain
(1989-1998, 4')
David Wojnarowicz asse
rted itself like one of the American artists impossible to circumvent of the Eighties. He is born in the New Jersey in 1954. Beaten and maltreated child, it flees in New York, discovers his homosexuality, lives in the street, remains thanks to the occasional prostitution. He crosses the United States in hitch-hiking. During the Eighties, he becomes a recognized artist (photographer, vidéaste, painter, sculptor and writer). He belongs to the artistic movement of the East Village and evolves/moves in the New Yorkean alternative medium (Nan Goldin, Richard Kern, Lydia Lunch, Kathy Acker…) Homosexual militant, savagely criticizes american company, it dies of the AIDS in 1992. (Note of the editions Disorders)
It is because the creative work of David Wojnarowicz proceeds of all his life which it acquired a similar power. Whereas all seems known as and repeats, something emerges from the chaos of David Wojnarowicz who places to us in front of our responsibility to be for something in the course of the movement of the world. Felix Guattari