Kathy Acker / David Wojnarowicz
« Pirate Sexualities »

Wednesday April 16, 2008 – 20h
Cinema Le Méliès, Montreuil

Attention : This is an automatic translation !

With Marion Scemama, François Pain and Laurence Viallet (Founder of the Désordres editions).
David Wojnarowicz and Kathy Acker engraved their art of anger and desire "as of the imaginary weapons of resistance to the established capacities". This meeting is devoted to these two splendid writers, performeurs, vidéastes who evolved/moved in the East Village New Yorkean of years 80-90, cosmopolitan district of the punk scene and artistic underground, where squatters, transvestites, male prostitutes, junkies and artists mown were côtoyaient.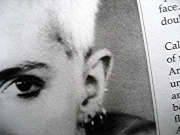 Eruptive artist of the counter-culture, Kathy Acker illuminates this New Yorkean scene of years 70-90, with a schizophrenic work of the language which is articulated with a social criticism, and a partly autofictionnelle search for exploration of parcelled out identities and androgynes, heralding contemporary feminisms queer.
"Kathy Acker (1947-1997) left behind it some twenty-five last years fight with the writing, as well as about fifteen novels underground evoking blood, sex and madness.
Little girl of Happy the Generation and grandmother of the riot girls, sulfurous Kathy Acker, atypical and declining auteure, did not have of cease to shout her freedom, eternally with counter-current. Acker was an artist in rupture of all. Traditional literature, which it called into question with vehemence; middle-class, of which she was wary; traditional feminism, which it avoided scrupulously; machos, that she hated. Punk Burroughs and nymphomaniac, but also the grandmother of the feminist movement post strongly tinted lesbianism. " Extracted from "Kathy Acker, in heart and cries", Patrick Thévenin
New in France, seldom shown the United States, single filmic production of Kathy Acker, The blue slap, videos corealized with the poet, to artist and performer Alan Sondheim, is a "experimental newspaper" of their relation, exploration without make-up of the intimacy and the relationship between sexuality and capacity in the couple. (distribution: le peuple qui manque)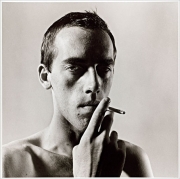 David Wojnarowicz described by his hallucinatory art the shady fauna of the East Village, his furtive and anonymous sexual meetings, his political revolt against the american company, his homophobie and his ultra-conservatism vis-a-vis the epidemic of the AIDS, in particular.
The series of Sex Series and others, Co-realized with the scenario writers Marion Scemama, and François Pain results from their long friendship, and lets take shape the dreams and nightmares of Wojnarowicz, his rage in front of the treatment which reserve "the factory to be killed American" with marginal and misfits of the American dream.
The blue tape by Kathy Acker and Alan Sondheim (1974, 55')
Sex series and others by David Wojnarowicz, Marion Scemama and François Pain (1989-1998, 30′)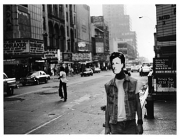 Textes: AI& KQ