Stéphane Marti
Bites of the desire
Friday January 11, 2008 with 20:30
Maison Populaire, Montreuil
FREE ENTRY
Attention : This is an automatic translation !
In the presence of Stephan Marti.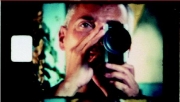 Stephan Marti made experimental cinema the place of invention of a filmic practice baroque and blazing. Major scenario writer of one of the most important tendencies of the French experimental cinema of the Seventies close relation of the corporal art: "The School of the body", where turbid identities and ritual records of imaginary homoérotique, engraved by the superone were mélèrent which combined visual splendour with artistic and against-cultural independence.
Enthusiastic defender of this medium, Stephan Marti conceives, since, a operatic esthetics of the intimacy, whose telluric declines mannerists and forces, golds and crimsons, forge the quantified coordinates of its "small theatres of the body".
He explores there "the colours of the pallet of the male body: the sculptural body, the disguised body, the body androgyne, the ravaged body, the crowned body, the prohibited body, the body pleasure, the body object, the body softness, the released body, the purified body".
Allegoria (1979, 14')
"A true concerto for body and camera celebrates the worship of Eros, at the same time allegory of the fury of the homosexual desire, and vast gleaming of the male body, subject-object of all ambiguities. "
(distribution: le peuple qui manque)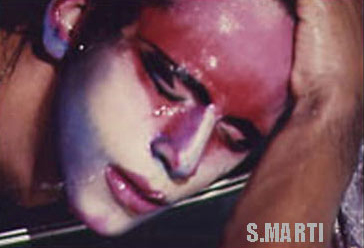 Les métaphores d'Alex (1999, 15′)
"In 1999, Stephan Marti turns the metaphors of Alex an air film and eminently baroque, a significant fitting on the ornament and the reflection, (…). The celebration of the body remains a peremptory necessity. It leads to profane rites. " (Raphaël Bassan)
(distribution: le peuple qui manque)
Mira Corpora (2004, 45′)
"With French Corpora Reflected (: " admirable bodies "), Marti are exceeded. It gives to its large body films the Seventies a continuation and a blooming. " (Dominique Noguez)
(distribution: le peuple qui manque)