Queer Panorama
Friday May 16, 2008 – 20h30
Maison Populaire, Montreuil
FREE ENTRY
Attention : This is an automatic translation !
Hybridization of the kinds, machines, prostheses, identities cyborg, réappropriations performatives, pornography sign to become to it queer contemporary cinema, pushing back, with the borders of the video of artist and the experimental cinema, the binary identifications, the limits of the body, deprived, obscene. The new Queer cinema documents also subculture voguing, the policies Queer antimilitarists and anti G8 and the representations trans, since a position often asserted like collective, which thinks of the ethical framework in which (car) to represent or testify to "identities which escape the eye of the system".
One knew Hans Scheirl for his film worship Dandy Dust, here the preparatory drafts into super 8 of any beauty of the cinema hermaphrodite and transgenre of the duet Viennese Scheirl & Pürrer, between cinema actionnist, film trash, porn lesbian, which declines already the vitality of its fantastic imaginary body.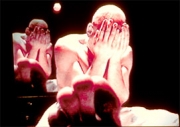 Kneaded of a mechanical and orgiastic cosmogony, the ritual ones of Marcel.lí Antúnez Roca, musician, actor and performor founder of famous and convulsif Catalan group Fura dels Baus, often belong to a grotesque mixture between biological computer, robot and materials, which questions the production, the dressing-up and the identity.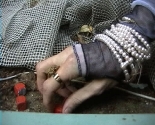 Ruins is the trace of a long voyage through Western Europe in various autonomous communities queer. The meetings and the places were the occasion to carry out the five parts which constitute this artistic project. Neither fiction nor documentary, Ruins excavates the systems of production of image to update identities which escape the eye of the system. "It is inside the ruins that our objects are, fragments of kind, scattered parts of our stories, the ends of sex, the fuzzy images. It was necessary to invent scenes, attitudes and performances. Us réapproprier." (Raphaël Vincent)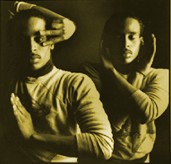 This program also recalls the formidable inventiveness of the subculture of the voguing, dance of reappropriation resulting from the merry communities blacks and latinos in the United States, with heroins worships of Paris is burning or Tongues Untied (Willi Ninja Field, David Depino, David Spada, Kenny, Kenny, etc) but also the fights queer antimilitarists and anti-G8 in Germany (Bombodrome), or poetry intimist of James Diamond (Womb-Man Mars) who questions with force and melancholy the identity metamorphoses and the binary body like place of social alienation.
Raphaël Vincent & Ruins production, Let's the sun shine, (2006, 8')
Raphaël Vincent & Ruins production, Ruins (2004-2006, 23')
Hans Scheirl & Ursula Pürrer, Body Building (1984, 3')
Hans Scheirl & Ursula Pürrer, Gezacktes Rinnsal Schleight sich schamlos schenkel nässend an (1985, 4')
Hans Scheirl & Ursula Pürrer, 1/2 Frösche Ficken Flink (1994-96, 17')
Marcel.lí Antúnez Roca, Satèl•lits obscens. Comedia de los Excesos. (1996-1997, 16')
LAS OTRAS FrauenLesbenFilmCollectif, Bombodrom (2007, 3′)
James Diamond, Mars Womb-Man (2006, 12')
Jack Walworth, David Bronstein & Dorothy Low, Voguing : the message (1989, 13')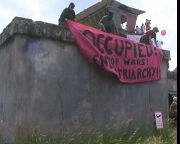 Programmation et textes : Kantuta Quiros & Aliocha Imhoff