Andre Almuró,
a radical homosexual cinematography
Friday December 7, 2007 with 20:30
Maison Pop', Montreuil
FREE ENTRY
Attention : This is an automatic translation !
In the presence of Andre Almuro.
Inventor with Jean-Luc Guionnet of a haptic cinema, cinema of the touch, where the camera guided either by the eye but by the arm alone of the agents at the same time filmeurs and filmed, penetrates in a sensory way in the middle of the bodies and of the fittings of its desire, the cinema into super 8 of Andre Almuró, in addition type-setter of musics electroacoustics, constitutes certainly one of the most succeeded searchs for a specifically male and homosexual cinematographic language. Its films which it carries out since 1978, in the gleaming of the minerality of the skins, in the sculptural quivering of the meeting, constitute a single experiment of organic vision.
"Between two men, a cinema of orgasm and desire at the edge of the syncope, an attempt to grant the pleasure of the body to the pleasure of the act to film, attempt some "impossible" share but O how much attractive and worthy of the most interest, because resulting from the greatest risk, that of the life even" Christian Lebrat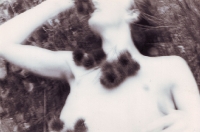 Andre Almuró, born in 1927 and after the first sound research as from 1947, becomes producer of radio to French Broadcasting (RDF) in 1950. He composes on texts of Jean Cocteau, Pablo Picasso, Eugene Ionesco, Jean Genet, Julien Gracq, Jules Supervielle and the Fièvre part of marble for the ballet of Maurice Béjart. In 1957, year when it meets the young person Pierre Clémenti of which it was a time Pygmalion, it integrates the Group of music research of the ORTF. As from 1973, he teaches with Faculty Paris I Sorbonne. In 1976, it presents its first action Partition performance with Ange Leccia; found the Sound-Image-Body group with its students. In 1978, it carries out its first film, Cortège (music of pH. Jubard), which will be followed by more than 30 others, and is directed very quickly towards a deliberately haptic cinema. In 2002, it publishes "the Pinéal eye, For a cinematography" with the editions Paris-Experimental.
Films presented :
Cortège (1978, 34')
Alliage (1985, 21')
Point Vélique (1986, 7')
Corps intérieur (1988, 8')
Texts: KQ&AI