The MIX NY 21, The New York Queer Experimental Film Festival (October 15-19 2008), invites Le peuple qui manque to propose a video program.
Closing Night Event
(Oct 19 2008, 8pm)

Outcast bodies' actions
This video program is a tribute to Michel Journiac, main artist of the French body art, who proclaimed: "Body, place of all marking, of all wound, of all traces. In your flesh are written the tortures, the prohibited of social classes, the violence of powers, scattered but never abolished. Nowadays, only the excluded create. Because it's the body who speaks, who enunciate the refusal. Body of refusal, body sold but not bought, doomed body, prostituted body, tortured body, work tool body, fag body, druged body, alcoholic body, sick body. All culture is this Third-excluded." This program, like a queer and trans bodies empowerment, through experimental cinema, activist cinema, and artist videos between historic videos rarely screened and contemporary productions, since the 80's to 2008.
Outcast body's action
by Michel Journiac et Gérard Cairaschi
(1983, 15′, France, NY Premiere)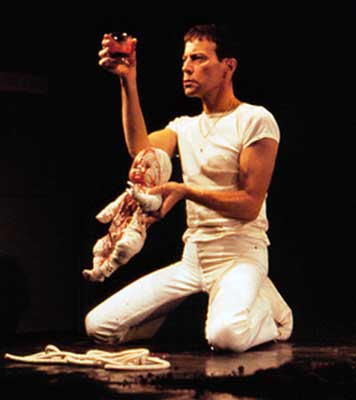 An action which took place in 1983 at the National Museum of Modern Art (Centre Georges Pompidou), during which Michel JOURNIAC stages a dramatic ritual and publicly brands himself on the arm with a red-hot iron triangle, the mark of the outcast. Action by Michel Journiac, photography by Gérard Cairaschi.
Last Night I took a Man…
by David Wojnarowicz and Marion Scemama
(1989-2004, 3', NY Premiere)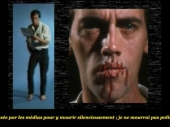 David Wojnarowicz is the first American gay artist to respond to the AIDS crisis with anger and moral outrage, he used his art as a polemical tool with which to indict those he held responsible for the AIDS epidemic and to document his own suffering.

1/2 Frösche Ficken Flink
de Hans Scheirl & Ursula Pürrer
(1994-96, 17', Autriche)
Hans Scheirl, filmmaker of the cult movie Dandy Dust, directed some years earlier with Ursula Purrer few splendid super-8 films for a hermaphrodite and transgender cinema and between actionist cinema, trash movie, lesbian and queer porn, cross gender, cyborg identities and which already assumes the vitality of his fantastic imaginary corporeal.
Summer 1992, NYC: First feature-film Flaming Earsis opening the 'New Festival' at the 8th Street Playhouse. Dietmar and Hans are staying with 'Shi-zu' in the Lower East Side. Elke comes to visit. Hans and Elke fuck on the roof, 'Shi-zu' examines holes, Dietmar jumps in the wig, Zande is boxing in a gym in Brooklyn: 'Shi-zu' watches, Hans is filming. Winter 1993, London. Si.Si. visits Hans. Si.Si., Suzie and Hans are filming obscene games (handstand, frankfurter, uniform). Sadly, the filmed footage is lost. (H.S.)
Mama no me lo dijo – épisode 1 & Acciones – épisode 6
de Maria Galindo & Mujeres creando
(2003, 21', Bolivie)
"Crazy people, agitators, rebels, disobedients, subversives, witches, street, grafiteras, anarchists, feministas, Lesbians and heterosexuals; married and unmarried; students and clerks; Indians, chotas, cholas, birlochas, and señoritas; old and young; white and coloured, we are a fabric of solidarities; of identities, of commitments, we are women, WOMEN CREATING." Mujeres Creando. Acciones is gathering a serial of street actions between art and politics.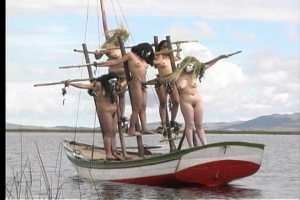 Ruins
de
Raphael Vincent & Ruins Production
(France, 2004-2006, 23', US Premiere)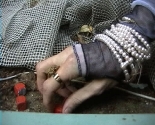 Ruins is the trace of a long journey through Western Europe in various autonomous queer communities. Neither documentary nor fiction, Ruins is searching systems of image productions to update identities who escape from the eye of the system. "It's inside the ruins that are our objects, fragments of gender, scattered pieces of our stories, bits of sex, blurred images. It should have to invent scenes, attitudes and performances. To reappropriate ourself. The houses as skeletons around us, waste and the rest. Concrete as a friend. The pieces of glass sparkle. "
Thanks: Entitled beneficiary and filmmakers, Stephen Kent Jusick / MIX.
Translations: Samuel Bonnefont