Generation 90: The AIDS years
Wednesday, February 13, 2008 at 8 p.m.
at Le Méliès cinema
Screening with Marion Scemama, François Pain,
and Arnaud Genon (author of "Hervé Guibert: Vers une esthétique post-moderne").
La pudeur ou l'impudeur by Hervé Guibert (1991, 58')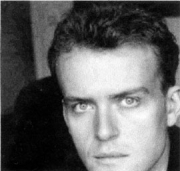 The writer Hervé Guibert, who died of AIDS at the end of 1991, was a close friend of Michel Foucault's. By writing and filming his illness and his body in the face of the medical establishment (and what he sometimes described as "therapeutic rape"), he reappropriated himself through self-representation. His 1991 film La Pudeur ou l'Impudeur (Modesty or Shamelessness), a cross between a film diary and a stage production, authorized the figuration of suffering bodies that had until then, particularly in their daily lives, been exiled beyond the realm of the visible. (AI&KQ)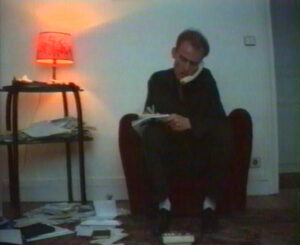 "When I saw Hervé Guibert's self-portrait of a naked man entering the water, I was able to authorize my body to go on stage. At the time, AIDS sufferers were very ashamed to show their bodies; they didn't want to go out or show themselves. Some people did come out, and it was important to show one's body, even when it was sick. And some of these people seemed very beautiful to me; you could see another kind of beauty in them." Raimund Hoghe, 2007
"A chronicle of a death foretold, Hervé Guibert films the repetition and describes the horror of everyday life without vain modesty or complacency. His mastery of photography helps him turn this tête-à-tête with AIDS – the supreme confession of an autobiographical work – into an act of faith in literature, an ode to life. This diary, which caused such a scandal with its open shamelessness, gave rise to an important cinematographic movement, of which it remains one of the most successful". (Documentary on Grand Ecran)
"There is no such thing as forbidden art (even if there is a moral). There are strong and mediocre works.
Filming one's death is a hard experience. The hard core of a truth. Death at work in the body, the test of decay, puts sincerity in total jeopardy. You have to reckon with modesty. Anything can be said. Is it necessary to show everything, even the shame of degradation?
Hervé Guibert's film is luminous and ethereal, and that's what makes it so surprising. Did he film his own death, or his own image of it? The writer, who hid nothing in writing about the evolution of his illness, delving into the underbelly of things and people, has achieved a purity here. La Pudeur ou l'Impudeur (Modesty or Shamelessness) is not a film about AIDS, but the view of a young man who is about to die, on the world around him that he is leaving behind. An incandescent film, a quiet time, like a retreat. A space." Catherine Humblot, "Filmer, c'est toujours vivre", Le Monde, February 2, 1992.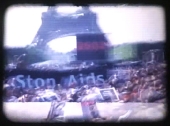 Requiem by Lionel Soukaz (2003-2007, 5')
A requiem against the G8 and for the free distribution of tritherapies to AIDS sufferers in poor countries, particularly in Africa, Lionel Soukaz's appeal denounces the political and capitalist obstructions to access to care and survival for AIDS sufferers. (AI&KQ)
Last Night I took a Man… Reading by David Wojnarowicz, directed by Marion Scemama and François Pain (1989-1998, 4')
David Wojnarowicz has established himself as one of the essential American artists of the 80s. He was born in New Jersey in 1954. Beaten and abused as a child, he fled to New York, discovered his homosexuality, lived on the streets and subsisted on occasional prostitution. He hitchhiked across the United States. During the 80s, he became a recognized artist (photographer, video artist, painter, sculptor and writer). He belonged to the East Village art movement, and was active in New York's alternative scene (Nan Goldin, Richard Kern, Lydia Lunch, Kathy Acker…) A militant homosexual, fiercely critical of American society, he died of AIDS in 1992 (Notice from Désordres).
"It is because David Wojnarowicz's creative work is the product of his entire life that it has acquired such power. While everything seems to be said over and over again, something emerges from David Wojnarowicz's chaos that confronts us with our responsibility to have something to do with the course of the world's movement." Félix Guattari